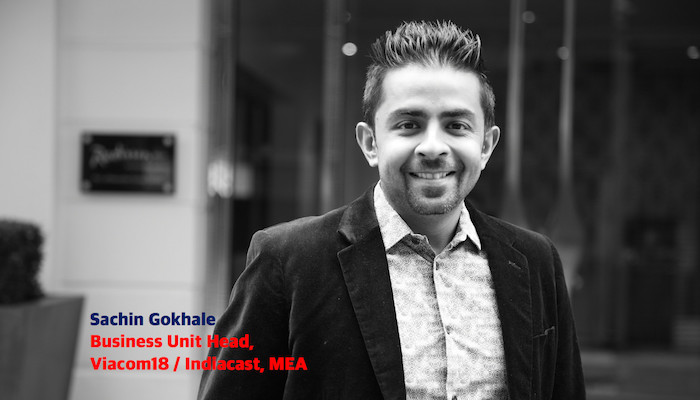 The youngest of the South Asian media players in the region, Viacom18, has busied itself in the Middle East and North Africa region with a focus to scale its business and become a definite option for reaching out to the South Asia Diaspora.
The mandate for Sachin Gokhale, Business Head, Middle East & Africa, Viacom18 was to create a structure that would allow a four-and-a-half-year old brand to take on competition that was nearly two-and-a-half decades old. The likes of Zee Entertainment Enterprises Ltd and STAR India commanded a loyal set of audiences, and partners, implying an uphill task for Viacom18. "Given the market dynamics, our focus was honing in on the aspects that defined us and charting a course that would be most effective for us," commented Mr Gokhale in a conversation with The Arabian Marketer.
Challenging status quo
In September 2015, the company launched a second general entertainment channel (GEC) Rishtey, specifically created and curated for the region. "We identified need gaps and crafted a content strategy that addressed these. Rishtey has taken an audience-focused approach to engage women and younger TG. The channel houses not only historical content from the Indian subcontinent but also from other subcontinents such as Pakistan and Turkey, from where we are dubbing shows," informed Mr Gokhale elaborating on the thought process behind the newest addition to its portfolio.
The Viacom18 bouquet in MENA comprises the likes of family GEC – Colors, youth GEC – MTV and business & current affairs channel, News 18. "Rishtey complements this. We are gearing up for further expansion of our channel portfolio. We would be launching around 22 channels on one of the big providers here," divulged Mr Gokhale. He also informed that Viacom18 is looking at geographical expansion in Africa, in addition to growing its Live events business, and creating targeted solutions for advertisers.
He said, "When we started in the region, our share of total Hindi GEC space was about 5 per cent. Our strategy so far has delivered, and we are at a 30 per cent share. We are an aggressive and combative option to our advertisers, and the plan is to push that forward."
The four-pronged strategy
Innovation rides high in Viacom 18's game plan for the region. "We are innovating on all aspects including how we package our product and create content experience. Even in crafting 360-degree solutions for our clients, investing in ground activation or ensuring a robust presence in the digital space, we look to innovate and disrupt," Mr Gokhale stated.
The second leg of the strategy is wearing the solution provider hat. Mr Gokhale explained that Viacom18 is not just selling a product but looking to provide solutions, enable better management of clients and customers and add value to its client's business.
The third pillar of the strategy is the push for scale and growth. "Ruthless prioritization is essential especially because we are surrounded by tons of ideas from our team and other collaborators. We decided to focus on a few things, and do it right. We started Live events business for MTV which was a first for the region. In the last three years, we have done formats such as 'MTV Unplugged', 'Club MTV', and we brought popular artists including KK and Hardeep Kaur here. We ensure scale and experience that would become signature Viacom18," Mr Gokhale observed.
The final piece, and according to him the most important piece of the strategy, is investing in the right talent. The keywords for Viacom18 in this are smarter, more passionate and involved staff that is eager to make a difference.
The digital opportunity
Another area of significance for Viacom18 is the opportunity that digital presents. "The days of single TV households are changing," explained Mr Gokhale, adding, "People want content on demand and on whichever device they have access to. They want content library narrowed down to smaller clips they can snack on. While some of these trends vary depending on age groups, these are some broad strokes that are changing the future of content consumption and by extension, content creation and presentation strategies. While Linear TV will continue to be mainstay for family entertainment, significant consumption will happen on digital."
An outcome of this change is that broadcasters are increasingly becoming content creators, content suppliers and content curators. "As a broadcaster, it is also part of our role to create experiences for our consumers, and in every way we can, add value to a consumer's life whether it is through Live events or focused initiatives. Conventional TV may well be on its decline but newer opportunities are coming up," Mr Gokhale summed up.
Five questions to Sachin Gokhale on traits defining the international b'cast space in MENA
We keep hearing piracy as a big challenge. What has been your experience?
It most definitely is one of the oldest challenges that the industry is grappling with, especially in our genre. Many steps have been taken; the government should be given due credit here in addition to pay TV players such as du, Etisalat and OSN that have worked on curbing down piracy but it still exists. In my estimate, pirated TV connections are twice the legitimate number, which creates a significant unchained market.
What are some of the other challenges you face?
In our business, I would say under-indexing. The South Asian Diaspora is very large, and across markets in the region. Historically however, marketers have not recognized the size and spending power of the South Asian population. This is a very serious and noteworthy consumer set. Even though advertisers are more receptive to pursuing this target group, the advertising dollar spent is still lagging behind significantly.
What are you doing to address this challenge?
We work very closely with advertisers. When we take a new channel or a television property to them, we substantiate our claim with both qualitative and quantitative data. We are one of the first broadcasters who bring data of previous shows, the projection of audience and how the brand fits in that. Advertisers are not just advertising with us but engaging the South Asian population. We provide 360 degree solution. For example, for our property 'Jhalak Dikhla Jaa', we did a pan UAE dance talent hunt, where aspiring dancers from the UAE and neighboring regions come together and participate in rigorous auditions. Following a grand finale, the winner gets a chance to go back to 'JDJ' and perform in front of the judges. In the entire activity, advertisers get presence on television, radio and on ground.
Is localized content also on the cards?
Creation of local content or AFPs (advertiser funded programming) in our case is important. Advertisers are interested in seeing how they can engage themselves in content, seamlessly blend in it and present it to the audience. We have increased our investment in local content and other formats as well. The amount of return we have received from local content has grown. It now forms 15-20 per cent of our ad sales revenue.
Finally, what are your focus markets in MENA in the year ahead?
The two big markets are UAE and KSA. The South Asian population is nearly 60 percent in UAE, and it gives a great environment for business. We see that in the way the businesses of our advertisers are booming. The government has supported the growth of business and the profile of the South Asian consumer is increasingly global. While KSA is a larger market, our immediate future primary market focus is UAE.