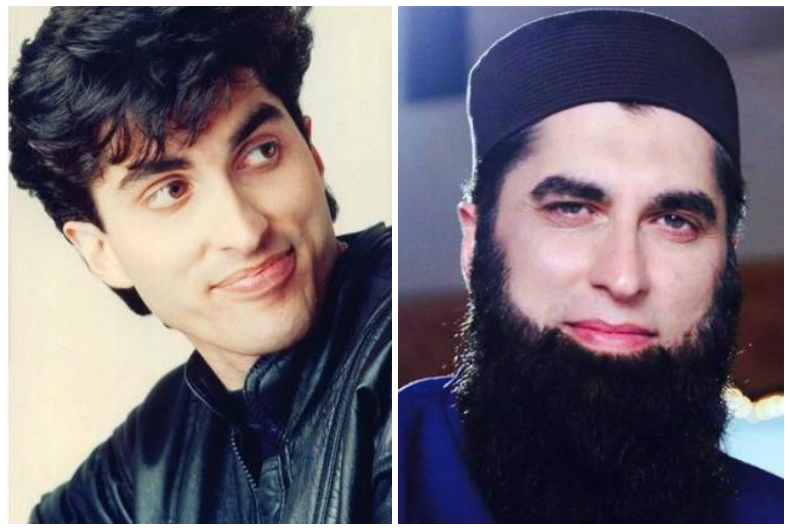 Let me begin by saying, I have no characteristic that qualifies as the typical Junaid Jamshed fan. My mother is, but for me, Junaid Jamshed represented a very distinct era that lived by a different set of values. On December 7th, the tragic news of an ill-fated PIA plane crash in Pakistan took social media by storm. The Pakistani pop star turned Islamic scholar was also in the plane, and this attracted mixed reactions of shock, disbelief and grief across the social mediasphere. People from every walk of life showed their gratitude and respect to the person who was inspirational for over three decades. He was a role model not only as singer but also as Islamic scholar and philanthropist.
From politicians and actors to mass consumers and businessmen, everyone took to social media to express the loss. Pakistan actor and director Hamza Ali Abbasi shared an image of himself with Junaid Jamshed and tweeted "You will be missed Junaid bhai". Whereas Islamic scholar Mufti Ismail Menk tweeted "I am saddened by news of the death of #JunaidJamshed and his wife in a #PIA plane crash. May the Almighty grant ease to all in the tragedy".
Veteran Indian actor and director Rishi Kapoor tweeted "RIP. My condolences to the bereaved families of the PIA flight crash. We lost an artist in Junaid Jamshed. May God Bless all! Ameen."
The demise of Junaid Jamshed was the trending topic on Twitter in most parts of Asia on December 7, and in the days that followed. Many of his fans around the world posted his picture on Facebook as a way to symbolize the importance of the artist. Some still hopeful that by some miracle, he might have survived.
Over the years, there is much that can move social media but in all that goes abuzz, the most important stories are the human stories. Junaid Jamshed's loss was one such story.
Born in a middle class family of Karachi to Nafeesa Akber and Jamshed Akber, Group Captain in Pakistan Air Force, Jamshed was destined for being a trendsetter. He has been in lists such as 500 Most Influential Muslims. Known as JJ during his early career in music, he was a heartthrob and a youth icon in sub-continent during late 80s and early 90s.
While still on his peak, Jamshed decided to pursue the course of an Islamic scholar.
His early education was in Yanbu, Saudi Arabia before returning to Pakistan, where he graduated in mechanical engineering in Lahore. It was at this time, when he joined a university band 'Nut & Bolts', where he met Rohail Hayatt, a keyboardist with the then newly formed band Vital Signs. Jamshed was soon a part of the band, giving Pakistan the unofficial national anthem 'Dil Dil Pakistan' in 1989. Jamshed not only because a national icon but was instrumental in heralding an era that influenced Pakistan's music and its culture.
Jamshed's fame and success continued, and in 2002, he began working for Tableeghi Jamat (a group of Islamic preachers that advocate harmony between different Islamic sects). In 2004, he eventually quit his career as a musician and become an Islamic scholar. His decision was met with every foreseeable challenge but Jamshed was unfazed.
He set up a clothing line named after him 'Junaid Jamshed' that is today counted among the most famous brands across Pakistan and even in markets such as the Middle East. Eventually, he also became an influential Islamic Scholar dealing with the responsibilities that came with it. This included significant travel and also owning up to times when he erred in his public statements. But all of this contributed to evolving Jamshed to become the icon that he did. This was one reason why his death moved the hearts of many – not just the once fans but also the once critics.