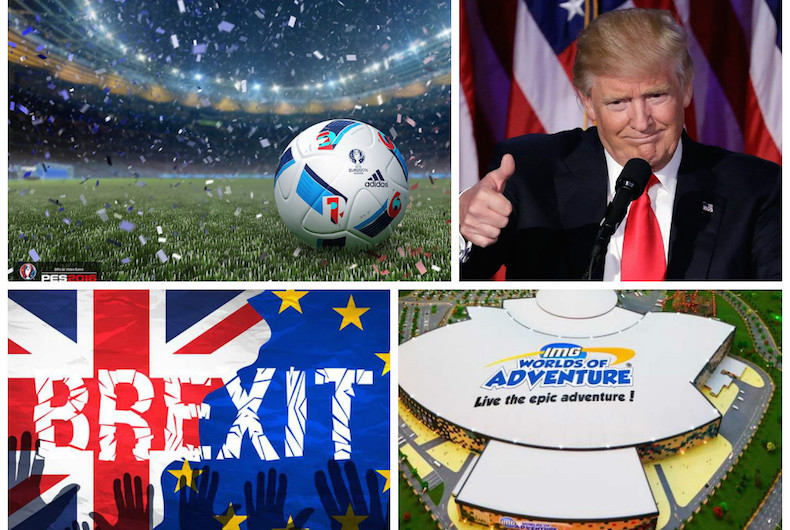 Google's annual Year in Search has thrown up some interesting topics at the year's top trends for the United Arab Emirates.
Not varying too much from the top trends in Saudi Arabia, the results showcase an interest in international sports events, with the UEFA Euro 2016 topping the most trending queries list of 2016 followed by Pokemon Go.
Brexit and the 2016 Oscars topped in searches in the events category, followed by Eid Al Adha and the Fly Dubai Crash. The most trending public figures in the UAE included celebrities and political figures such as US president-elect Donald Trump and Indian actress Pratyusha Banerjee.
In the category of most trending destinations in the UAE, 'IMG World' topped the list followed by 'Legoland Dubai' and 'Dubai Opera'.
Here are the most trending search queries in the UAE in 2016:
Searches
1. Euro 2016
2. Pokemon Go
3. Rio Olympics
4. Donald Trump
5. Ramadan
6. T20 World Cup 2016
7. iPhone SE
8. Suicide Squad
9. Eid al Adha
10. Why is there a leap day?
People
1. Donald Trump
2. Pratyusha Banerjee
3. Qandeel Baloch
4. Nizar Qabbani
5. Muhammad Ali
6. Prince
7. Christina Grimmie
8. Alan Rickman
9. David Bowie
10. Hillary Clinton
Events
1. Brexit
2. Oscars 2016
3. Eid Al Adha 2016
4. Fly Dubai crash
5. Gitex 2016
6. Holi 2016
7. Panama Papers
8. Dubai Canal opening
9. Chinese New Year 2016
10. Pakistan vs England cricket match
Movies
1. Suicide Squad
2. Deadpool
3. Sultan
4. The Revenant
5. Captain America Civil War
6. Batman vs Superman
7. Conjuring 2
8. Pulimurugan
9. Rustom
10. Finding Dory
Songs
1. Love yourself
2. Barbes (Arabic song)
3. Panda
4. Closer
5. One Dance
6. Hali Hali (Arabic song)
7. One Call Away
8. 7 years
9. Photograph
10. Hola (by Joey Montana)
Destinations in the UAE
1. IMG World
2. Legoland Dubai
3. Dubai Opera
4. Cirque du Soleil Dubai
5. Dubai Garden Glow
6. The Green Planet
7. Outlet Village Dubai
8. F1 Abu Dhabi 2016
9. Last Exit dubai
10. Global Village