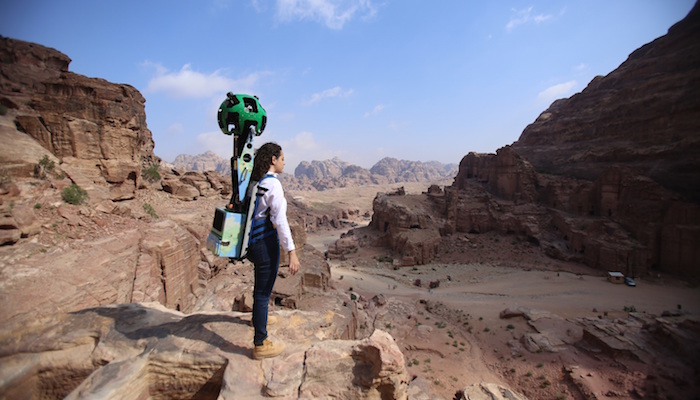 Google has brought a 360-degree street view imagery of Petra and 30 other landmarks in Jordan for the first time. The initiative was taken with the support of Her Majesty Queen Rania Al Abdullah of Jordan.
Her Majesty, in a blog post about the launch, said that with Google Maps Street View, "people all over the world now have a window into our magical Kingdom in the heart of the Middle East. It is a great taster of what visitors can expect when they come to Jordan…" The Queen added that this technology also "provides a lens on the past. And when we understand more about each other's stories and cultures and histories, we realize that we are more alike than we are different. That's why we must preserve these treasures for future generations. They're a doorway to our shared narrative."
Street View Special Collects is a feature of Google Maps that lets users explore places around the world like landmarks, natural wonders, as well as culturally and historically significant sites. The feature allows anyone with an internet connection can explore Rose-city of Petra, The Dead Sea, the monuments of Jerash, Qasr Al Kharana, Mount Nebo and more.
Google used the Trekker which is a wearable Street View backpack with a camera system on top that is designed to go down footpaths, tracks and narrow pathways to get images of areas of natural beauty or tourist sites.
"The Google Street View team goes to amazing places around the world because we know that our users love to see them and experience them online. Jordan is one of the most spectacular places that we have visited – thanks to the amazing support and warm hospitality that was extended. We hope our imagery conveys all the grace, beauty and deep heritage of the country," commented Ulf Spitzer, Global Lead, Google Street View Program.
This is the fifth Street View imagery collected of a major landmark in MENA, after Burj Khalifa in Dubai, the Sheikh Zayed Grand Mosque and the Liwa desert in Abu Dhabi and the Pyramids of Giza in Egypt.