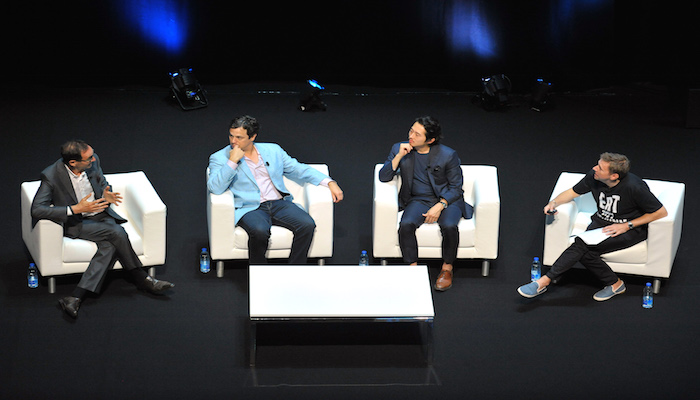 Zombies were the central point of conversation at the inaugural session at the Cannes International Festival of Creativity. With spotlight on AMC's 'The Walking Dead', the objective of the session was to better understand the kind of content that is resonating with the new age consumers.
According to the show's producers, 'The Walking Dead' is not just an example of how to survive the zombie attack but also how a consumerist society connects with content.
"The Walking Dead not only focuses on strong characters but also revolves around a well crafted story," said Josh Sapan, President and CEO of AMC Networks.
David Alpert, Executive Producer of the show and actor Steven Yeun were also part of the discussion on the show's facets that attracted a loyal audience. Mr Alpert divulged that each character was treated with a lot of seriousness, and as if each were real. "We approach characters as real entities. We study the psychology of what the person was, and what he is now. We treat the stories with equal respect. Sometimes popular characters are killed on the show because for it to be real, the story line requires that character's death."
Steven Yeun, who plays Glenn Rhee, says that for him the show has also been a journey of self evolution. "It has been great, as an actor you get to grow and mold the character."
As the season premiere nears, the zombie series has once again tempted millions of viewers to watch the show live. "One of the few reasons for its success is that despite the show being over, it was fun for people to talk about it with friends, because they start caring for the characters. It was organically developed by word of mouth and by audience following because when developments happened on the show, it mattered to fans," remarked Mr Sapan.
Mr Alpert informed that the show looked to engage audiences by also inviting audience feedback and suggestions. "Fans come to us and tell us what they would have done or wanted in a particular scene," he said.
The fan phenomenon that 'The Walking Dead' experiences has been interesting for the makers with fans not just making tattoos of their favorite stars but also posting it on social media sites and engaging with elements like 'the zombie walk'. "I think that the fan culture has its own ecosystem that often dictates and sways people. I am flattered and intrigued with how much people love the show," stated Mr Yeun.
MediaCom's Global Business Development Strategy Officer Jon Gittings who hosted the conversation presented the six cultural trends that were seen across two clusters of markets – hierarchy, individuality, masculinity, feminity, uncertainty, pragmatism and indulgence." We noted that while the audience in the first cluster – US, Canada and UK – was high in individual and indulgence score, the other much diverse cluster of Turkey, Spain and Brazil – was high on uncertainty."