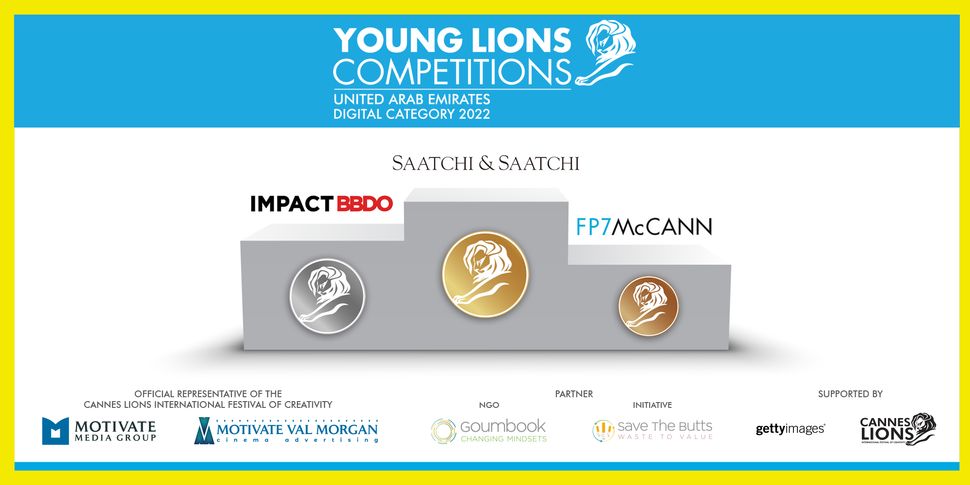 The 19th edition of the esteemed UAE Young Lions Digital Competition, hosted by Motivate Media Group and Motivate Val Morgan – the official UAE representatives of the Cannes Lions International Festival of Creativity, took place on Saturday, 26th March 2022.
This year's competition took place online and witnessed participation from 18 teams across 10 creative agencies. The judging and awards ceremony followed on Wednesday, 30th March 2022, with Rebecca Ann Menezes and Eduardo Cesar from Saatchi & Saatchi Middle East winning Gold.
Rebecca and Eduardo will move on to represent the UAE at the International Young Lions Digital Competition, which will take place online between 25th – 27th May 2022. The gold winning duo will also receive a full week delegate pass and an all-expense paid trip to attend the in-person Cannes Lions International Festival of Creativity in June 2022.
Ana Julia De Oliveira and Jarrad Pitts from Impact BBDO bagged Silver, while Maya Essawy and Francesco Negri from FP7 McCann won Bronze.
The jury panel for this year's competition comprised of Louise Kotze Hussein (BPG Group), Giorgia Fattoracci (Leo Burnett), Bruno Barbosa (Saatchi & Saatchi), Yasmina Boustani (Impact BBDO), Rafael Augusto (Publicis Middle East), Andre Marchesi (Science & Sunshine), Claudia Canas (FP7 McCann), Muhammad Ali (Momentum MENA), Vivek Kukreti (Precise Communications) and Vijay Simon (You Experience).
This year's client brief was from Goumbook, the leading social enterprise promoting sustainable living and green practices in the UAE and beyond since 2010, and the competition was sponsored by Getty Images.
Participating teams were challenged to develop a creative and innovative digital led campaign for Goumbook's latest initiative 'Save the Butts – Waste to Value' – the first sustainability initiative in the UAE that adopts a circular Economy approach to environmental pollution, that converts cigarette butts into a value-added material. The campaign goal was to raise awareness on the littering of cigarette butts and its negative impact on the environment, with a focus on promoting the initiative to corporates/companies and encouraging them to get involved.
Speaking at the online awards ceremony, Tatiana Antonelli, Founder of Goumbook, stated: "Trillions of cigarettes are smoked annually, making cigarette butts the most common type of litter in the world. Due to the composition of butts being mainly plastic and toxic substances, this waste carries a very harmful risk for the environment and for living organisms, including humans. The 'Save The Butts' campaign aims to raise awareness and showcase alternative solutions to landfilling and incineration. We have identified technology to properly recycle this kind of waste and promote the recovery of materials in line with a circular economy approach and sustainable development. We welcome the local community, including individuals and businesses, to join the initiative, collect cigarette butts and help transform waste into value."
Ian Fairservice – Managing Partner, Motivate Media Group, said: "After a stellar performance from the standout up-and-comers of the industry, it was particularly difficult to narrow down the top submissions. In the end there had to be a winning team – I want to congratulate everyone who participated, but especially the winners Rebecca and Eduardo from Saatchi & Saatchi ME, who I'm sure will be great ambassadors from the UAE during this year's Cannes Lions event."
The UAE Young Lions Digital Competition – hosted by Motivate Media Group and Motivate Val Morgan, supported by Getty Images, aims to unveil the brightest creative minds from across the UAE, and is part of the Cannes Lions International Festival of Creativity – the world's biggest celebration of creativity in communications. 2022 will witness the return of the annual festival and will take place between 20th – 24th June at the Palais des Festivals et des Congrès in Cannes, France.