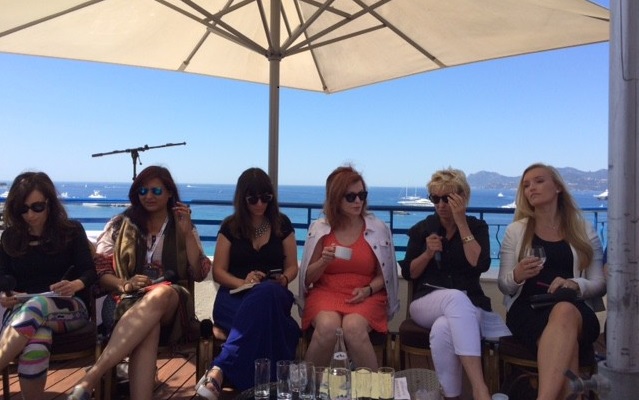 Six women addressed "The Femenism: Modern Femenism includes Men" with a robust discussion on gender. The event was organized by J. Walter Thompson at the Cannes Lions International Festival of Creativity.  The ladies discussed women, men, salaries, personal lives, professional lives, politics, their own businesses and feminist point of view.
On recent comments by Nobel Prize winning scientist Tim Hunt that three things happen with women in the science labs: you fall in love with them, they fall in love with you and you criticize them, they cry:
1."What's wrong with being in love, falling out love and crying? It's who we are." Tista Sen, National Creative Director and SVP, J. Walter Thompson India
2. "Saying something stupid doesn't make you a misogynist. We have one less prominent cancer researcher in the world. Is that progress?" Windsor Hanger Western — Co-Founder and President, Her Campus Media
On Hillary Clinton campaigning for President of the United States:
3. "Hillary does not know how to campaign as a woman. Don't hide your gender.People wanted to see her humanity." Maureen Dowd, Best-Selling Author and Columnist at The New York Times
On what women need to do to advance their careers and be part of succession planning:
4. "There is a syndrome that sometimes women don't know how to own their victories." Tina Brown, CEO and Founder of Tina Brown Live Media
5. "Women who lead as their authentic self is the only way to lead. The benefit of diversity is diversity." Kat Gordon, Founder, 3% Conference
On funders and founders for start-ups led by women and the fact that none of the 102 Unicorns, those with valuation of $1 billion, are led by women:
6. "I have a 7-year plan and I want to be in the three comma club." Thalia Mavros, founder and CEO of theFront and former ECD, VICE Media
7. "Without fail if we presented to a VC team they inevitably told us, 'I'm going to go home and ask my wife or daughter about this.' We decided their money wasn't worth it." Windsor Hanger Western — Co-Founder and President, Her Campus Media, which is self-financed.