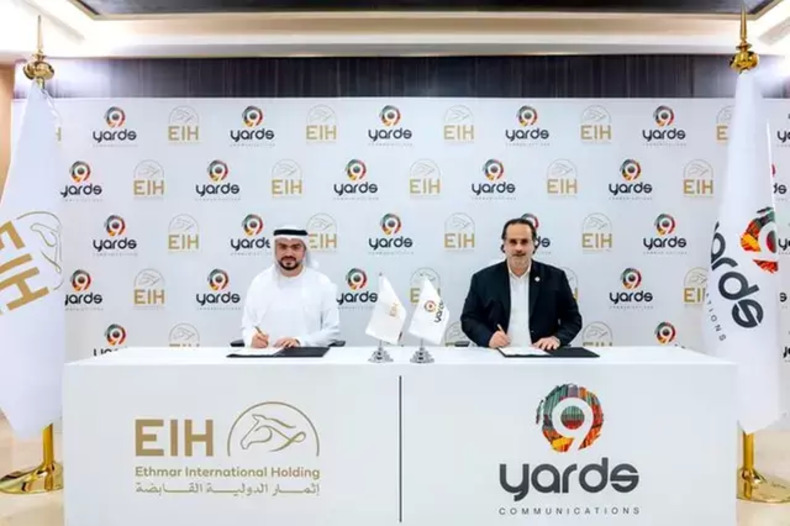 EIH Ethmar International Holding PJSC "EIH" and 9Yards Communications, two leading companies based in Abu Dhabi, have together announced EIH's acquisition of a majority stake in 9Yards Communications.
The acquisition aims to broaden EIH's investment portfolio in the capital and expand its presence into vital new sectors. This will be achieved by executing operational plans that effectively contribute to expanding the service offerings and client portfolio of 9Yards Communications, aligning with the vision of the UAE's leadership to boost and develop various sectors of the economy, within the framework of Abu Dhabi's Economic Vision 2030.
EIH has a successful track record, characterized by remarkable growth, diversity, and profitability. The company has cultivated a diversified, innovative, and sustainable investment portfolio, comprising over 40 successful companies across various sectors, including energy, real estate, alternative investment, technology, healthcare, hospitality, travel & tourism, and automotive and trading. On the other hand, 9Yards Communications holds a prominent position in the media and marketing sector in Abu Dhabi and the UAE, boasting a successful track record and a broad client portfolio encompassing government entities and private organizations both domestically and internationally.
Ali El Gebely, Managing Director and Group CEO of EIH, commented "We are delighted to announce this strategic acquisition of a majority stake in 9Yards Communications, as it represents a significant step in line with our expansion plan. It also aligns with our vision of investing in new, dynamic, and vital sectors. This step will positively impact our future plans, boosting our group's portfolio with one of the most successful media, marketing, and events management companies in Abu Dhabi and the UAE."
"This acquisition reaffirms our commitment to diversify our investments across various sectors, relying on the immense capabilities and extensive experience of 9Yards Communications. Through this partnership, we aim to expand their range of services and enter new markets across the region and the world," El Gebely added.
Commenting on the acquisition, Hussam Al Mulhem, Founder and CEO of 9Yards Communications, said: "Over the years, we have accomplished numerous milestones and have established a prominent position in the media, marketing, and event management sector, particularly in Abu Dhabi, the UAE, and the region. Today, we announce EIH's acquisition of a majority stake in 9Yards Communications, which signifies the culmination of extensive and dedicated efforts spanning several years. Through this partnership, we seek to reach new markets and expand our clients' portfolio and services."
"9Yards Communications relies on over 120 professionals working in its offices, representing some of the best talents available in the markets where we operate. This has allowed us to become one of the leading providers of media, marketing, and event management services for government and non-government entities. We have achieved significant accomplishments over the years, offering various services, including integrated marketing strategies, event management, public relations, and digital media services. We are excited about this partnership with EIH and look forward to embarking on a new chapter." Al Mulhem added.