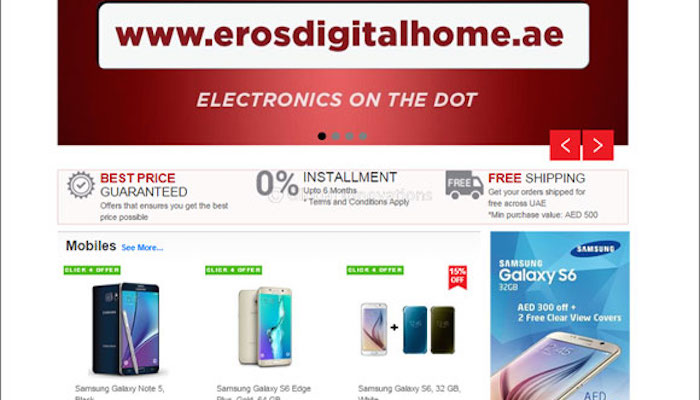 Eros Group, a distributor of brands including Samsung, Hitachi, TCL and Linksys, has launched a new online shopping website allowing customers to purchase everything from mobile phone accessories to home theatre systems and washing machines online.
The website has a range of products including home entertainment, mobiles, tablets, appliances, computers and accessories. As an introductory offer, customers will receive AED 50 off their first purchase of over AED 200.
"eCommerce is rapidly expanding in the region due to the increased confidence in online sales and we expect to see this strengthen over the next decade. As one of UAE's leading electronics distributors, we have built a strong and enduring relationship with our customers. It goes without saying that peace of mind is of the utmost importance when shopping online. Consumers want simplicity and convenience and our presence in the eCommerce arena brings with it the same credibility and superior service that is provided by Eros Group offline," said Deepak Babani, CEO, Eros Group.
In the Arab region, eCommerce payments are growing faster than anywhere else in the world. Worldwide e-commerce sales are expected to reach USD 1.7 trillion by end of 2015. In the United Arab Emirates, the largest e-commerce market in the Middle East, eCommerce is worth about USD 2.5 billion a year, and is expected to grow to USD 10bn by 2018, according to research firm Frost & Sullivan.
With a dynamic young population and one of the highest global per capita internet penetration levels, the online spending potential in the UAE is quickly emerging as one of the highest in the world.
"With the increasing growth in internet penetration and more and more users going online to shop, we feel that now is the perfect time for us to take the digital leap. The online opportunity for Eros Group has huge potential and we are excited with the opportunity and have some exciting online retailing offers," shared Niranjan Gidwani, Deputy CEO, Eros Group.