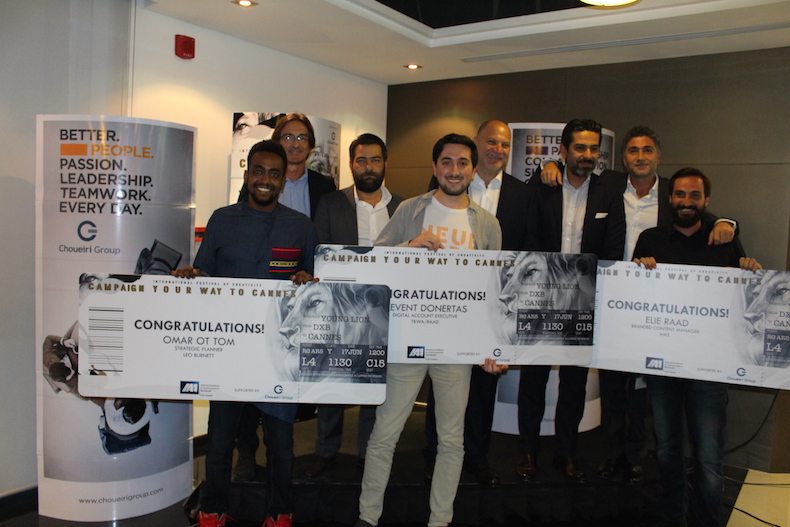 Omar Tom, Strategic Planner at Leo Burnett Dubai, Elie Raad, Branded Content Manager at AMS and Levent Donertas, Digital Account Executive at TBWA\RAAD are the three lucky winners of IAA's 2017 #IAATICKETTOCANNESLIONS competition. The winners were selected based on their originality, creativity, passion and personal investment.
The competition, which was held with the support of Choueiri Group and launched at the 2017 Dubai Lynx Festival, gives three young industry professionals the chance to win an all-expenses-paid week at 2017 Cannes Lions International Festival Of Creativity to be held in June.
The competition in its third consecutive year where the UAE Chapter has reached out to young industry professionals in a bid to help them broaden their horizons at the advertising industry's most prestigious festival.
Through social media, the IAA UAE Chapter invited working professionals, 30 years and younger from a UAE based advertising agency, advertiser, production house, media industry and University (final year graduating students only) to 'campaign their way to Cannes' by sharing a video showing why they deserve to go to the industry's most respected festival.
"With the industry becoming so dynamic and so many new fields coming to light, it's never been more important to ensure that young talent has the facility and support to learn and grow. The #IAATICKETTOCANNESLIONS not only makes young advertisers mine their own creativity and originality to further their careers, it gives them a chance to learn from the best minds in the industry and apply that learning in the local market. The three winners stood apart because of their creative approach and their ability to elicit an emotional connection with their campaign. We wish them an exciting, enjoyable and fruitful week in Cannes," said Hani Ghorayeb, President, IAA UAE Chapter.
The three winners also shared on winning this competition.
"I'm looking forward to expanding my horizons and sharing everything I've learnt through the Dukkan platforms," said Mr Tom.
While Mr Raad said that one shouldn't 'wait for opportunity but create it', Mr Donertas commented, "As a young & thirsty advertising professional, this is definitely a dream come true. I am already having a major FOMO thinking of all the great people I will meet, the chance to take part in the Young Lions Academy and how much else I can potentially absorb in under a week. Thank you to IAA UAE for the amazing opportunity – I can hardly contain my excitement!"