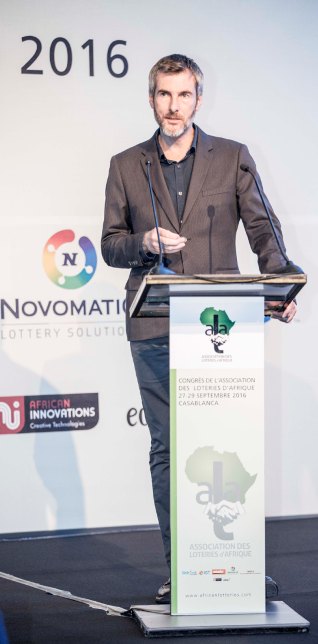 The latest international congress run by the African Lotteries Association has just concluded. Speakers and delegates from throughout Africa were joined by those from the US, India and across Europe at an event in Casablanca where 'The Challenge of Transformation' was the core theme.
I gave a trend speech at the event and, when all brands are challenged by volatility & disruption, discussed how a series of key trends are impacting consumer behavior and marketing.
Setting the macro context, I highlighted some issues widely accepted as being at the top of the agenda for Africa, then explained what I felt were some catalytic implications and opportunities for lottery brands regarding leveraging appropriate marketing trends.
A report from Deloitte on the consumer opportunity in Africa suggests that this rests on five key pillars:
#1. Rise of the middle class
#2. Exponential population growth
#3. The dominance of youth
#4. Rapid urbanization
#5. Fast adoption of digital technologies
It's well known that the emerging African middle class is optimistic, brand conscious and connected. About 60 percent of many African populations are aged under 30 with over 50 percent of income-earners aged between 16-34; living on a continent very different to than the one where their parents (let alone their grandparents) grew up. These younger Africans form a large share of that rising middle class and will seek to access a wide choice of consumer goods and entertainment (including lotteries) alongside increased connectivity. So the opportunities for engaging with this enormous emerging generation are extraordinary.
I spoke of generational theory, recalling a point made in that superb book 'Africa Rising' regarding the difference between African youth 'cheetahs' and older 'hippos' — the generation still in power but very much mired in the past. The hippos are still complaining about colonialism and imperialism, while the fast-moving cheetahs are demanding democracy, transparency and an end to corruption…
Meanwhile, Africa's population is increasingly clustered in large urban centres, and nearly 50 percent of Africans will be living in cities by 2025 – a date by which two-thirds of households will have discretionary income. As McKinsey notes, urbanization is and will be a key driver of economic activity, when in the largest African cities, consumption growth rivals that of major BRIC (Brazil, Russia, India, China) cities.
There isn't of course 'one Africa', which is currently illustrated by numerous national rebranding campaigns, and there are naturally different levels of opportunity across markets and territories. However, a number of forces are converging to make Africa more prominent in the global consumer economy, as this urbanizing & rising middle class drives demand for consumer products and improved services.
Technology is one area that is absolutely key – Africa leads the world in mobile payments and the continent's digital revolution is set to continue. Mobile penetration is already well over 90 percent and by 2021 it's estimated that the continent will have over one billion smartphones in use. The economic and social effects of a fully digital Africa will be, to state the obvious,enormous and positive.
Moving onto the branding implications, I pointed out that there are few sectors linking more closely than lotteries with that great marcoms trend of our time – Brand Purpose. Enabling brand/consumer conversations and brand stories of national/ regional/ local lottery 'good cause' outputs are absolutely key for lottery brands anywhere – Africa very much included. Of course there are numerous examples of this already taking place – for instance members of the ALA heavily participate in areas such as education, security, civil protection, health, culture & sport, the fight against unemployment and poverty through creating jobs and income generating activities. But I suggested that more could be done to communicate the cultural and social benefits of lottery activities from a brand engagement perspective in authentic, meaningful and fresh ways.
The backdrop to this is that so many brands that hype their 'good business' behavior (often done for dubious reasons) while lottery brands have every right to highlight the incredible impact of their good causes work. Given the intense needs of the continent, building and developing any successful brand needs to go hand in hand with addressing the challenges of Africa, and lottery brands are absolutely part of this equation. This goes to the very heart of any lottery brand – its core purpose being to generate funds for good causes. But of course to do so via enabling people to have fun whilst playing the lottery with its inbuilt potential of winning a fortune.
The best hope for the continent appears to focus around entrepreneurship, market development, openness and positivity. I concluded by talking about lotteries focusing on that one key trend 'purpose' which they seem more able to deliver than brands in virtually any other sector. Why? Because successful lottery brands are 'meaning brands' that don't succeed by just delivering one lucky winner – they succeed by 'Being Good while Doing Good'. So that society is a winner.