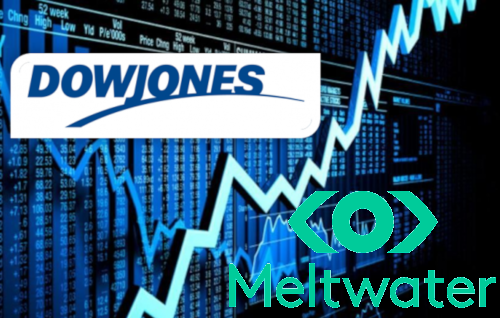 Meltwater and Dow Jones have formed a partnership to provide premium licensed content from Dow Jones Factiva into the Meltwater Media Intelligence platform.
This partnership will give Meltwater's PR and communications clients the ability to monitor and analyze premium licensed content across thousands of Factiva news sources globally, including The Wall Street Journal, Barron's, MarketWatch and Dow Jones Newswires.
"Meltwater provides our clients with the most comprehensive content network globally, across news, social media and broadcast media. This new Dow Jones partnership will further strengthen our leadership position and allow our clients to access licensed content from some of the most highly-respected news outlets in the world. We're excited about this partnership and we look forward to a long and successful relationship with Dow Jones," said Kaveh Rostampor, Executive Director at Meltwater.
"Dow Jones is thrilled to provide PR and communications clients with access to our trusted, high-quality Factiva content. Meltwater will help us serve this vibrant market through its industry leading technology and global reach," added Jason Malatesta, Global Head of Strategy and the Americas, Partners & Alliances, at Dow Jones.