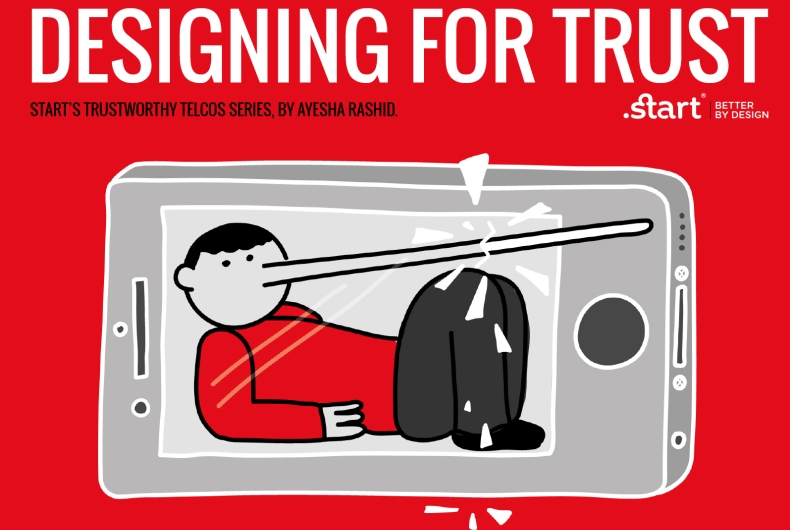 Trust is a core communication issue for telco brands today. Growth is down to their strength as trusted connectivity providers for billions of people who now rely on their mobile devices to live their lives. The irony is that this explosion in mobile usage has not actually led to corresponding windfalls for operators.
Of course, operators are grappling with a whole host of global challenges. There's the pressing issue of whether or how to beat off newer, more agile OTT disruptors. There's also the challenge of building a digital ecosystem that delivers the kind of seamless customer experience we now expect of the brands we interact with. Ultimately it's the trusted relationship telcos must have with their consumers that will really drive their success, but how do they do this?
We've seen steps taken by telcos to partner with OTT organizations to better sell their network. Everything Everywhere's (EE) deal to new customers included six months free access to Apple Music. Three has partnered with Deezer in a similar clash. These moves are becoming more frequent in the race for end-to-end connectivity. It's been predicted that OTT services will have a staggering 300 million subscribers by 2019. And yet, seemingly these collaborations are only going so far in retaining strong brand presence.
Some operators are pursuing adjacencies, branching into new sectors in a bid to remain top of mind with consumers. While these moves may create some notes of innovation, they result in little shareholder value, making acquisition an attractive target for OTT players needing expanded, global connectivity to their services.
In late 2016, Sky moved from being a pure entertainment service to becoming a mobile virtual network operator (MVNO). Similarly, Google recently married T-Mobile to launch its own WiFi service. Etisalat, is already playing in various digital domains with Dubai Parks and Resorts and the upcoming Dubai Expo 2020, expanding across into broader industry and economy infrastructure.
So as bundling, partnering, diversification and discounting gather pace as 'winning strategies', telcos still need to make sure they're not in danger of being overtaken by more relevant businesses wholly focused on delivery brilliant experiences.
It's also worth reminding them of their confident position in the market. After all, they own it.
Despite this game of battleships happening in their backyard, the future doesn't need to include aggressively competing with OTT, as many have predicted.
The World Bank calculates that with every 10 percent increase in high speed internet connections, economic growth increases by 1.3 percent. With the internet becoming as important to governments as providing power and water in coming years, telcos must re-instate their position of power, capitalizing on our cravings for data.
Every company and person on the planet now depend on networks to operate effectively. If they didn't exist, we wouldn't live in a connected society, and we wouldn't have the luxury of living digitally. Being a pure network provider is therefore power and not a shameful desire for today's telcos.
As of December 2016, there are an estimated 2.6 million apps on the market. Today a typical consumer spends close to four hours a day connecting to them via mobile and this is only going to increase. Mobile payments and invisible check-outs such as Amazon Go, pave the way for mobile to be the wallet of the future. It is predicted that revenues from virtual reality will grow to close to USD 50 billion by 2020.
The value customers place on ease of use, playful technologies, network data and speed outweighs their loyalty to a particular network provider. And yet there is one thing that all apps must design for if they wish to become integrated into peoples lives; trust.
Arguably, telcos need to be seen as the most trusted business in the market. Osman Sultan, du's CEO, clearly recognizes this as a key differentiator, recently announcing the imminent launch of Virgin Mobile into the UAE market. Virgin, a trusted brand, understands consumer preferences, likes and desires.
Restoring Customer Trust Using Design
It's no surprise that what a brand does, how it interacts with customers, the consistency of the experience it offers is much more important in our social media driven age than what a brand says about itself. These days, trust is built through word of mouth and great customer experiences to get people talking, to nurture relationships and drive loyalty.
So far though, success has been mixed. Telcos are still famous for their disgruntled customers, data breaches, complicated offers and over-charging than their great customer experiences. The best place to begin mending these fractures is by better building and managing connected physical-digital ecosystems.
With already a considerable physical store network, there is a big opportunity for telcos to exploit the role of the store more strategically against their digital networks. Start's work for Etisalat is a great example of how telcos can restore trust with customers. Its original stores were damaging the brand's reputation as the trusted telco in the Middle East. Start helped re-invent the role that telco retail played by creating opportunities for Etisalat's people to meet customers face to face and offer personalized advice and services. Results saw an increase in sales of higher value product and dramatic cuts to wait time in store.
Telcos must also look to create similar next generation omnichannel experiences to assert themselves and meet soaring expectations. It's through the customer experience that people will be reminded of a telcos' importance and the trust we put into them. It's about moving into the realm of entertainment and personalization.
The race is on for 'even more connected' digital ecosystems.