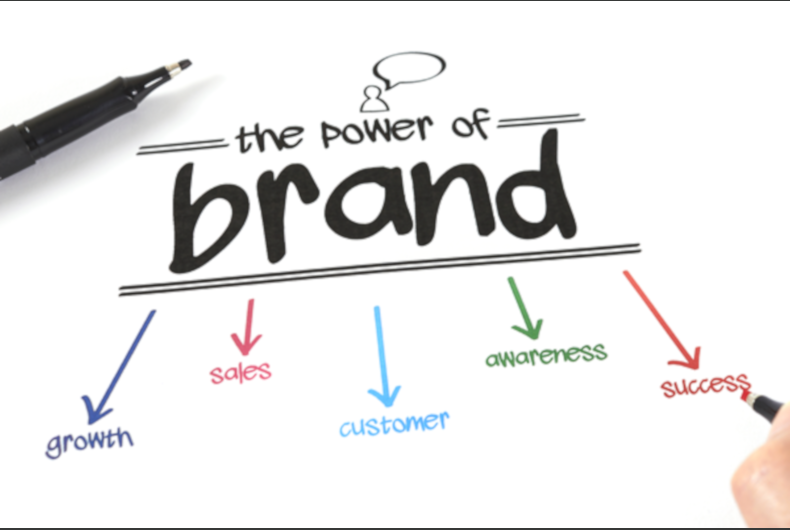 If conversations in industry get-togethers and closed-door meetings, including those in boardrooms, are anything to go by, 2018 will be among the toughest years for the Middle East & North Africa (MENA) ad land. It is expected that 2019 too will be no better. This story of degrowth for the region has been predicted and lived several times over. Nothing about a sluggish market, unforeseeable geo-political challenges, declining ad forecasts or downsizing is new to the region.
It is evident that only the ones with lion hearts and long-term plans have any chance of making a mark in MENA. But as industry leaders point out, the only way from here is upwards. The need of the hour is to focus on the positives, celebrate the successes whether small or big, and to not lose sight of the bigger picture.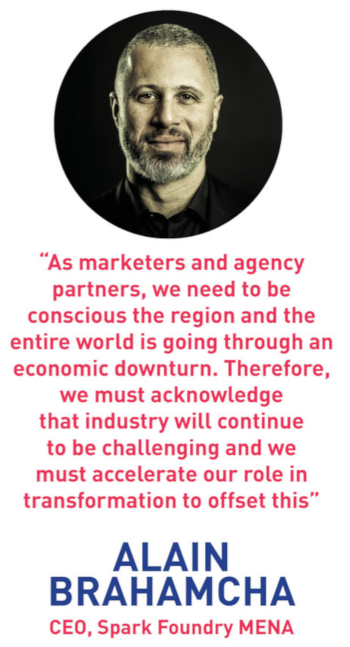 Eyes On The Prize
Economic downturn is a not a problem for MENA alone. Plunging stock markets in Europe, UK marketing budget growth slowing to 2015 levels amid Brexit uncertainty or the challenges in the emerging markets are all testing marketer's mettle. These have also added to the pressures in MENA.
The slew of challenges faced since 2014 are yet to see some respite. In its September 2018 Advertising Expenditure Forecasts, Zenith estimated that MENA ad spends shrank by 40 percent between 2014 and 2017. It also forecast 11.5 percent decline in 2018, and 4.9 percent decline in 2019. The report also expects the market to stabilize at 0.4 percent growth in 2020.
"As marketers and agency partners, we need to be conscious the region and the entire world is going through an economic downturn. Therefore, we must acknowledge that industry will continue to be challenging and we must accelerate our role in transformation to offset this," advises Alain Brahamcha, CEO, Spark Foundry MENA. "We may not be able to control the economy, but we can control our business and how we choose to evolve to remain relevant and drive growth for our partners," he says.
Opportunity For Change
"The year 2018 was always expected to be tougher than 2017 but growth depends on several factors. From nature of the industry and the stage of business cycle to subtler areas such as how a company planned for uncertainties or optimized for efficiency all play a part," remarks Samir Ayoub, Founder & CEO, MedPush.
He explains the biggest challenge is that not knowing when the industry will see the light at the end of the tunnel. "On a positive note, I believe most people have got accustomed to the new normal, and have re-wired accordingly," he adds.
Many industry stakeholders are viewing the challenges as opportunities to change. From making customers a priority, revisiting marketing strategies, investing in talent, to developing innovative practices, the market conditions are pushing the industry towards the direction that seeks stability.
Perhaps the biggest change has come in adopting digital and business models that seek to do more from less. Global ad forecasts assert that digital has become the biggest contributor to ad revenues across. Not only is digital media itself contribution to the ad pie, but the impact of digital on media sectors is also opening up newer revenue streams for companies.
The music industry is one such example. After re-visiting itself over and over again, to address the several challenges the industry faced, streaming came as a solution that has contributed to its revenues.
"Globally, the music business has seen growth in the last few years. It is probably the most exciting time to be in the music business as streaming services bring revenue back into the industry. Our region is doing very well too and at Sony Music we have had a positive year. We have great artists. We are working with new partners and clients on brand partnership and digital," informs Mike Fairburn, General Manager, Sony Music Entertainment Middle East.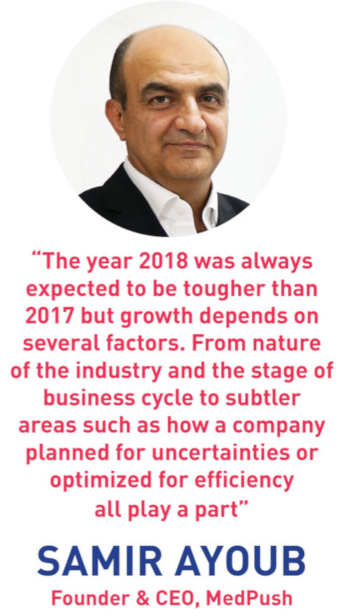 Writing Success Stories
This changing face of the industry is layered with a mindset of collaborating and forming newer kinds of partnerships. "Given how technology is changing every day and digital is soaring like never before, the old fashion models are no longer viable and need to be revisited. We have an opportunity to re-think everything particularly remuneration, measurement and true accountability. There's a greater need to create win-win solutions," states Mr Ayoub.
As each market in the region wakes up to new tests more often than not, the setbacks and experiences of living through it is having a profound effect on how industry leaders are thinking and performing.
While many have resorted to cost cutting including downsizing, many agencies have taken a different approach.
"At Spark Foundry, we don't believe that downsizing is a solution. We use the right talent to aggressively pursue opportunities that will transform and modernize our partners communication and marketing efforts. Over the past two years, we've been focused on evolving our product and transforming our talent to meet the industry realities," says Mr Brahamcha.
He explains that these realities are not only a function of the economy but a response to marketer needs to make investments fully "accountable".
Due to the precautionary measures taken and the re-adjustment of resources, many agencies in the region have been able to achieve set targets, and even see growth. Media companies that have taken the digital advantage too are looking to close the year in the black. Younger companies such as MedPush claim that their percentage of growth has been "phenomenal". Mr Ayoub informs, "Our position at MedPush is completely different as we are in building stage. This is our second year of operations. In comparison to 2017, we expect to close the year with around 65 percent growth."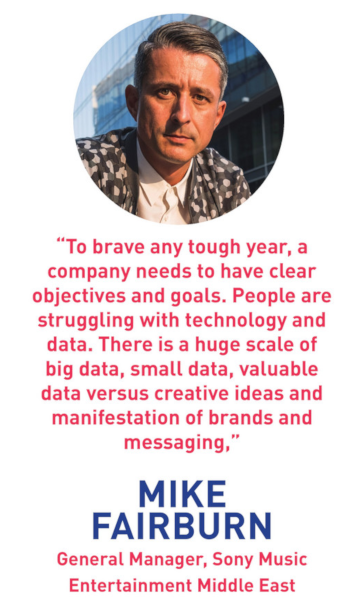 To Thrive & Grow
Being surrounded with "bad news" is unavoidable during tough times. In this, how a company chooses to process information and corresponding negativity is key to survival and growth.
"Maintaining a positive attitude with an optimistic outlook on the future is a must," advises Mr Ayoub, adding, "We need to introspect and become our own critics to highlight all hindering and unhealthy practices. At the same time, we should have an honest and open dialogue between relevant stakeholders to re-grow with healthier, modern and adaptable models and structures."
"My philosophy is strong vision, leadership and focus on a visionary goal. To brave any tough year, a company needs to have clear objectives and goals. People are struggling with technology and data. There is a huge scale of big data, small data, valuable data versus creative ideas and manifestation of brands and messaging," says Mr Fairburn.
Creativity is necessary but if it is not working above the line, then it may not be working hard enough for being useful.
Mr Brahamcha reasserts the need for talent transformation. "This will organically push business transformation. Invest in talent to make sure you're building the right infrastructure that delivers growth now and in the long term," he says.
The region's trials promise to continue and even intensify in the next 12 to 15 months. Leaders who are looking towards innovation, partnership and creating win-win solutions, while focusing on the positives and the bigger picture, will eventually be the region's game changers.