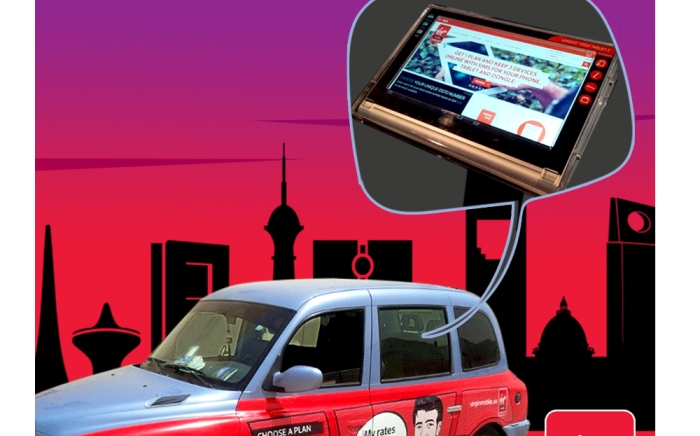 Virgin Mobile has rolled out an innovative campaign where prospective Virgin Mobile members can book new mobile phone numbers while traveling in specially-equipped taxis in Riyadh and Dammam. The Virgin Mobile branded cabs are fitted with internet-enabled tablets which passengers in the back can use to choose and reserve a new Virgin Mobile number.
The campaign was rolled out in the Kingdom of Saudi Arabia (KSA) a month back which was designed by and for the Saudi Arabs. While the creative agency involved in the campaign is Ogilvy, the marketing team of Virgin Mobile was also involved in crafting out the campaign. The media duties were handled by Mediacom while the digital responsibilities were handed over to Netizency.
The campaign was launched in almost all mediums including online (Youtube), print, Virgin Mobile's owned social channels – Facebook, Twitter and Instagram along with Virgin Mobile retail stores and London cabs in Riyadh and Dammam.
"This campaign has been designed by young Saudi Arabians for young Saudi Arabians. We know that young people are busy, and sometimes don't have the time to study mobile phone packages. We want to bring our proposition of fairness to life in ways that are relevant and thought-provoking," commented Karim Benkirane, CEO, Virgin Mobile, KSA.
The telecom service provider launched a new cartoon-style advertising where the cartoons bring to life Virgin Mobile's pre-paid promise that 'the more you use the less you pay" and the post-paid proposition "pay only for what you use".
"We wanted to bring to life Virgin Mobile's pre-paid promise that 'the more you use the less you pay" and the post-paid proposition "pay only for what you use" in a simple and straightforward way. The challenge was to communicate these value propositions to our target market in a new and exciting way," added Mr Benkirane.
From the back of the cabs, prospective members can choose from a million Virgin Mobile numbers, to find one special to them. They can book the number, and then visit any Virgin Mobile store to activate their new SIM at their own convenience.
"We wanted to roll-out the campaign in a big way so we needed a creative style that would work across multiple platforms, including digital. Our approach was to use a 2D cartoon style rather than opting for a 3D animation. But we didn't just opt for print and social advertising; we decorated London-style taxis with the innovative super hero creative and fitted them with mobile enabled tablets to help people connect with our brand in a new way," he said.
Virgin Mobile's new cartoon advertising takes its style cues from vintage super-hero comics. The development of the adverts has been directed by Virgin Mobile's young Saudi Arabian team in the company's Riyadh office, to create scenarios and stories relevant to today's Saudi Arabian youth.