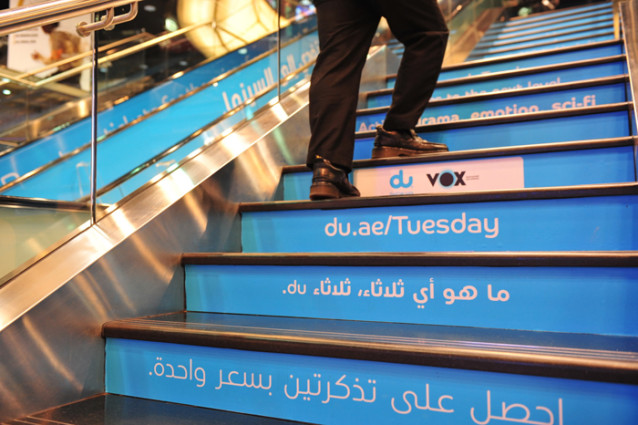 du continues its winning streak at several awards platforms. The telecommunications operator's advertising campaign du Tuesday garnered a Bronze Lion in the Film Craft category at the Cannes Lions International Festival of Creativity 2015.
The win brings a number of firsts to the Middle East and North Africa region. Du is the only telecommunications operator – both regionally and globally – to win in the Cannes Lions Film Craft category. In addition, du is the first company from the region to take home a prize in that category two years in a row for its du Tuesday campaign.
Last year, du earned the UAE's first-ever Gold Lion at the Cannes Lions International Festival of Creativity 2014. It marked the first time that an entry from the region had ever won a Gold Lion in the film category.
This year's winning film 'Too Informative' is part of a series of four films – including 'Too Silly', 'Too Distressing', and 'Too Insulting – created by Leo Burnett Dubai for the du Tuesday campaign. Leo Burnett won from among 2,205 other entries in the Film Craft category. Judging of the 2015 awards took place in Cannes, France.
"We are so proud that du was awarded a Bronze Lion in the Film Craft category for its cutting-edge, multi-phased du Tuesday campaign," said Hala Badri, Executive Vice President, Brand and Communications, du. "Such recognition is a testament to our region's ability to produce powerful, highly-engaging content that taps into both local and global sensibilities. We would like to thank and congratulate Leo Burnett Dubai, our creative agency, for continuously creating truly innovative work. Looking ahead, we hope to continue to leave an indelible mark on the global advertising industry."
In March 2015, the du Tuesday campaign was recognised at Adfest 2015 in Asia, where it won a silver and a bronze award. A month later, in April 2015, du Tuesday campaign triumphed at the Art Directors' Club of New York (ADC), where it won the Black Cube (Best in Show) as well as two gold and two silver awards; and just a couple of months after the du Tuesday campaign won eight awards – three gold, four silver and one bronze – at the 2015 Dubai Lynx.
In May 2015, du Tuesday was also granted the Yellow Pencil (Gold) at the D&AD Awards. du was recognised for its prolific Tuesday campaign with a Yellow Pencil (gold), a Graphite Pencil (silver) and five other Wooden Pencils (bronze). A few hours after its amazing win at D&AD, the du Tuesday campaign also received top honours at New York Festivals World's Best Advertising awards where it won four Gold Awards, two in the Film and two in the Film Craft categories.