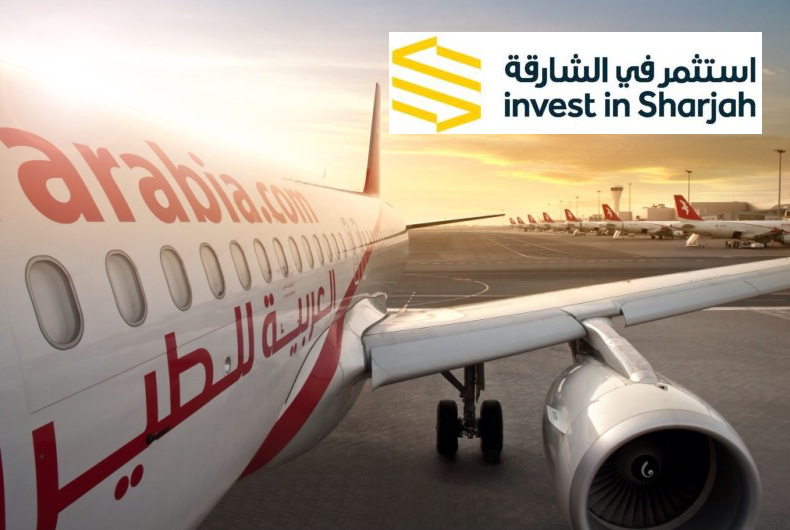 The 'Invest in Sharjah' brand is quite literally taking to the skies, as the Sharjah FDI Office, a unit operating under the government of Sharjah, and Air Arabia sign an agreement to that effect. Under the agreement, Air Arabia will brand its flights and operational hubs across multiple destinations in three continents, including GCC countries, India, Morocco and Europe, with the Invest in Sharjah logo.
This enhances the on-going collaboration between the Sharjah Investment and Development Authority (Shurooq) and Air Arabia as per the agreement signed two years ago to promote Sharjah-based business projects and brands with global ambition.
Shurooq welcomes the Invest in Sharjah agreement too, highlighting the significance of such an initiative that supports Sharjah's economic brand globally.
"As the most successful low cost airline in the region based in Sharjah, Air Arabia flies to numerous destinations across the world. We are delighted to place the Invest in Sharjah brand on our planes, in alignment with our objective to promote Sharjah's potential globally. We are proud that Air Arabia started from Sharjah and now has hubs across the region – by promoting Invest in Sharjah we are supporting Sharjah government's aim to highlight the emirate as a preferred destination for global investment," said HE Marwan bin Jassim Al Sarkal, CEO, Shurooq.
The placement of the Invest in Sharjah logo on Air Arabia's planes aims to raise awareness among investors about the importance of the brand, which is the fruit of Shurooq's intensified efforts to promote Sharjah as the premier investment destination in the Middle East, in alignment with the vision of the emirate's leadership. The placement will also include Air Arabia's three major operational hubs, which include Sharjah International Airport in Sharjah, UAE; Mohamed V International Airport in Casablanca, Morocco and Borg El Arab International Airport in Alexandria, Egypt.
"This agreement is the latest example of the excellent integration between government entities and public sector corporations in Sharjah. All of Air Arabia's planes flying to 13 destinations in India and 16 destinations in the Gulf, as well as our planes travelling to Morocco and Europe, will carry the Invest in Sharjah logo. I believe that this campaign will achieve very positive results as far as promoting Sharjah in three continents is concerned," said Adel Al Ali, Group Chief Executive Officer of Air Arabia.