The authenticity of consumer goods in the UAE is under the spotlight with Japan External Trade Organisation (JETRO) and Middle East Intellectual Property Group of Japan (ME-IPF) combining efforts to quash the trade of counterfeit products. Following the seizure of more than 25 million fake items by Dubai authorities in 2018 –– worth an estimated AED 332 million –– the spread of fake consumer goods throughout the country and the wider region poses a real threat to the UAE's consumers and economy.
"Counterfeit products are a real problem. Consumers need to be more careful, and check for the quality of craftsmanship of any product when making everyday purchases," said Masami Ando, Managing Director, JETRO Dubai.
Counterfeit Goods a Rising Global Crisis
Global authorities project counterfeiting to reach a combined amount of USD 1.82 trillion globally by 2020. For many Japanese brands operating in the UAE, the threat posed by fake goods is a growing concern. With many ME-IPG members operating in key sectors most commonly targeted by counterfeiters, such as the electronics, car parts and automobile industries, protecting intellectual property rights is also an issue for these multi-national corporations.
"The UAE is a competitive regional hub for our electronics business, however fraudulent products are making it quite hard for consumers to identify which is real and which is fake. It might affect not only this region but also other regions such as Africa," commented Soichi Murakami, Chairman, ME-IPG and representative of the electronics industry.
"As well as infringing intellectual property rights, counterfeiters are unfairly misleading consumers and counterfeiting goods affect the product quality. And most of the time, it endangers the consumer's life, which is why we need to educate shoppers," added Taku Hirose, Vice Chairman, ME-IPG and representative of the car parts and automobile industries.
Stepping up the UAE's War on Fake Goods
By teaming up with Dubai authorities, such as Dubai Economy (DED), Dubai Police and Dubai Customs, JETRO and ME-IPG are working to raise awareness to inform unwary consumers in the UAE of the harmful circulation of fake products. JETRO and ME-IPG are also educating UAE officers on the differences between real and fake products.
"If you buy fake, you support illicit trade. If you buy genuine goods, you get the real deal, which is why we recommend buying authentic electronics and auto spare parts from the authorized stores," said Jama Abdulla AlGaizi, Manager of Intellectual Property Disputes, Dubai Economy (DED).
"We seize an obscene amount of counterfeit products every year. In 2018, we seized 3.36 million counterfeit items, worth AED 1.2 billion in value. Raising awareness is a proactive step forward and we fully support this move," noted Colonel Omar Mohammad Bin Hammad, Deputy Director Anti-Economic Crimes Department, CID, Dubai Police.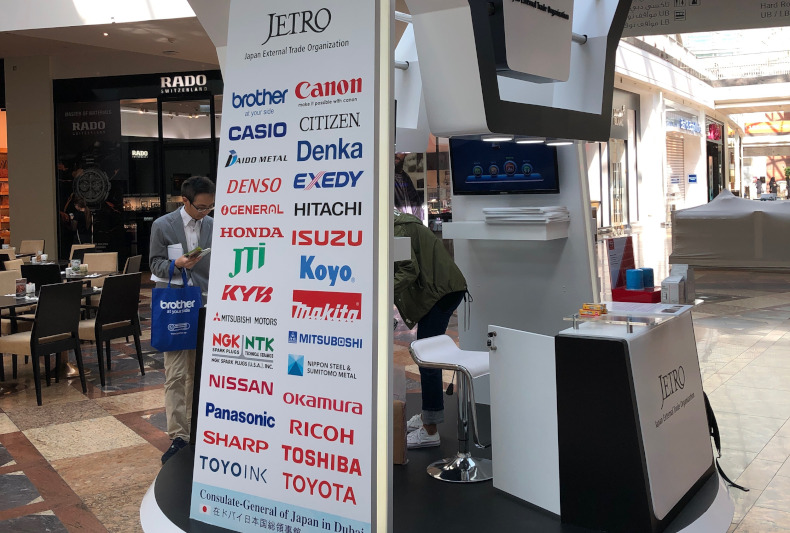 Activating Awareness
As part of its commitment to eliminating counterfeit activities from the UAE, JETRO recently held an interaction at Dubai Festival City Mall aimed at educating shoppers. The interaction was setup to help consumers learn how to distinguish fake goods from real goods in order to halt the flow of counterfeit products circulating the UAE and the wider Middle East region. The interaction aimed to sharpen shoppers' senses to help them evaluate the authenticity of products before following through with future purchase decisions.