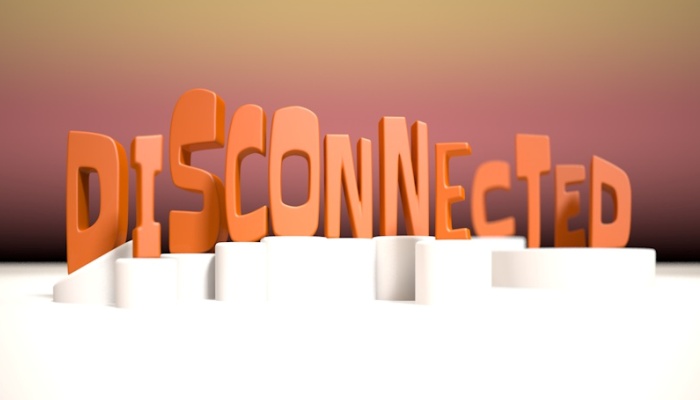 The seismic shift in the way in which brands and consumers relate to each other has unsettled marketeers schooled in classical media. From social networking and mobile commerce, to device proliferation and constant connectivity, the 'digitization' of our daily lives has brought a massive change in the way consumers engage with each other. This digitization challenges marketeers to transform their approach and implement new strategies in order to drive business growth.
The most successful marketing campaigns in this new era will be the ones that have the ability to deliver a core idea effortlessly spanning multiple channels. However, marketeers must achieve this in the context of tighter marketing budgets, as media fragmentation means that proving marketing ROI is now more difficult than ever.
Individual behaviors matter:
There are 3.0 billion plus internet users worldwide and each individual has his or her own unique digital footprint. Reaching the elusive targeted consumer is hard enough in one channel, let alone across multiple different ones. To do this effectively, marketeers need a deeper understanding of the target consumer by looking beyond traditional segmentation parameters which can be too blunt to understand the individual digital behaviors. In order to understand consumers' digital behavior we believe that there are two critical dimensions that must be considered: 'Digital Influence' and 'Social Engagement'. These dimensions allow us to segment consumers into groups distinct enough to dictate unique strategies by market and category.
Digital Influence is the degree to which a consumer is connected or rather addicted to being online throughout the day across multiple devices. A higher degree of connectedness would mean higher consumption of online video, ecommerce activity, more multi-screening and the use of multiple online touchpoints in the path to purchase. If your target audience scores highly on this dimension, the implication is that your media, commerce and content strategy needs to be more digitally focused.
Social Engagement is the degree to which social connection and content is important to a connected consumer. Do they feel the urge to check their Facebook status all day? Are they vocal online? Are they likely to respond to branded content in social channels? Does social play a role in the purchase journey? Fundamentally, are they the type of person who embraces social media?
Marrying these two dimensions together gives birth to the four distinct personas of the connected world i.e. Leaders, Functionals, Observers and Connectors.
The four personas of Connected Life:
Leaders are at the top end of digital influence and social engagement axis. They 'live online', being constantly connected through the day, and are typically more vocal on social media.
Functionals on the other hand, are slower, more cautious adopters of technology, often being nudged along either by the need to keep up with the world or a conscious awareness of tangible practical benefits.
Observers are highly curious about and enthused by technology, and take pride in knowing about the latest innovations. They are set apart from Leaders by their lack of a similar enthusiasm for social media.
Connectors are the opposite of Observers, in that their interaction with the online world is driven primarily by social media. They are not especially interested in having the latest devices, provided the ones they have are good enough for accessing social media and connecting with friends and family.
Looking at the composition of these personas in the Middle East region, it is apparent that the rapid growth in availability of digital devices in the region has created a polarized audience of Leaders (35 per cent), and those left behind i.e. Functionals (34 per cent). So, a tiered media strategy is required to reach the total market.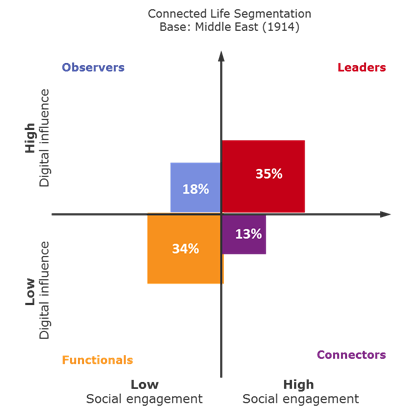 Targeting personas:
To influence Leaders, traditional media is a complete no-go as this group is far more likely to engage with brands online via social media and will both consume and broadcast. Brand managers should look for ways to trigger conversations amongst this group which can reach and influence other segments by effectively leveraging both owned (brand websites) and earned media (user reviews). In contrast, Functionals are important users of traditional media and retail channels, spending proportionately more time offline. Brands need to approach this group carefully with targeted online campaigns coupled with ongoing use of offline channels.
To activate Observers (18 per cent), brands should reallocate more budgets online and must focus their engagement efforts around functional benefits given that their interaction with technology is purposeful. For Connectors (13 per cent) a mobile-centric social-first strategy is likely to be effective due to the significant amount of time spent online and receptiveness to brand interactions in this space. They are looking for "useful information" and an explicit personal benefit, such as a price advantage that might encourage them to buy online.
If you are managing a single brand, it will not always make financial sense to target every persona, particularly in emerging markets where those online are a more homogenous group. But if managing a portfolio of products, the fragmented media landscape creates a perfect opportunity to diversify strategy to meet the needs of different consumers.
Understand digital behaviors to optimize ROI:
The framework described above is just one lens through which we can view the complexity of online and offline behavior. Understanding where your consumers sit in the polarized Middle East digital landscape is critical to develop a successful 'Integrated Marketing' strategy which optimizes marketing ROI and brand growth.
This article was published in The Arabian Marketer February print issue. 
To get your own copy, please email to marketing@arabianmarketer.ae