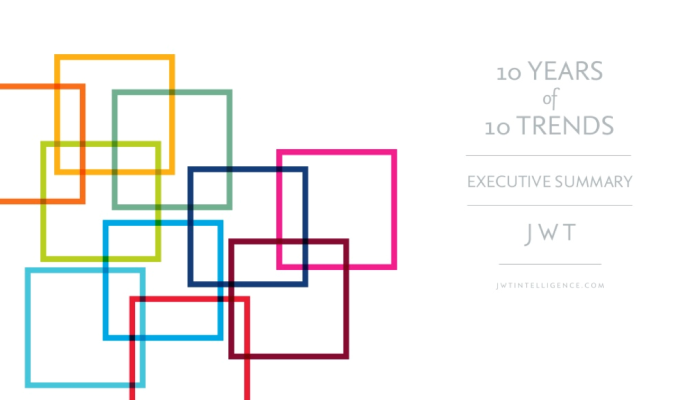 This week, JWT Intelligence compiled a decade of annual trends forecasting by releasing '10 Years of 10 Trends'. The report explores 10 of the most compelling macro trends that shaped societal behaviors and attitudes defining the business landscape. It maps how these trends have evolved till now, and where they are headed next.
One of the significant trends that JWT stated in its, '10 Trends for 2008′, was the Queen Trumps King. It envisaged that women were moving ahead, as gender dynamics changed rapidly at home and the workplace; and in culture as determination strengthened across genders to engineer greater equality.
Another top trend was 'Everything Is Retail' from the '10 Trends of 2013′. The report encompassed that anything and everything would be a retail channel as mobile connectivity unites the digital and physical worlds, and brands find ways to merge discovery and purchase opportunities.
Also an important trend seen today that was listed in the 2012, 10 Trends Report was 'Food as the New Eco-Issue. "Sustainable" is becoming a new buzzword in food, as the educated eater comes to better understand how food choices affect the environment and what consumers, brands and governments can do to drive positive change.
JWT's 'Mobile Device as the Everything Hub' trend, which figured in the 2009 report also features in the compilation, which predicted that mobile phones will become "everything hub" as more things get digitised or connected and as people take to the smaller screen to watch video, spend, shop, track their health, learn, play and more.
"These are mega-trends for our time; they are defining the decade and impacting every aspect of how consumers live and how brands do business, and will continue to do so for many years to come," commented Lucie Greene, Worldwide Director of JWTIntelligence.
Other trends include Going Private in Public (10 Trends for 2013), Buying the Experience (10 Trends for 2007), De-teching (10 Trends for 2011), Predictive Personalization (10 Trends for 2013), Retooling for an Aging World (10 Trends for 2010) and Cooperative Consumption (10 Trends for 2008).