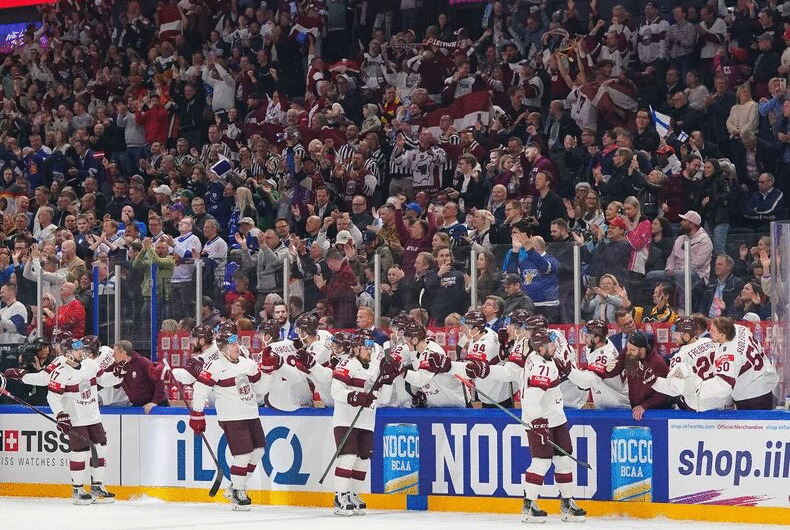 Skoda, OlyBet, Rietumu, Tissot, Strauss and Nike are some of the brands that connected with consumers at the right time, making the most bang for the buck
As Kristian Rubins scored for the second time in the bronze medal game against the USA in Ice Hockey World Championship, celebrations erupted at the Nokia arena in Finland, reverberating across Latvia. This is the first medal for Latvia in Ice Hockey Championship with the country's previous best being in 2004 when it finished in the seventh position.
 A New Chapter
Latvia is enjoying new heights in ice hockey in recent years. And in this high-voltage win, not only did players and fans have reasons to celebrate but also brands such as Skoda, OlyBet, Rietumu, Tissot, Strauss, Nike and others that had associated with the game. 
Organized sporting events provide an opportunity for brands to communicate their message and create awareness among fans. Sports marketing though can come with both positive and negative outcomes. Should a match disappoint people, brands can only hope their investments show some returns. But when it is the kind of match that sends a nation into a frenzy, the outcomes cannot just be measured in commercial terms.
Post Covid, fans have been eager to have more emotional connections with live sports, which ultimately means brands too have a market and audience to cater to. 
The Brand Scoreboard
As the official main sponsor for the International Ice Hockey Federation (IIHF) since 1993, Skoda can be said to have gained big with this win. This is one of the longest associations for any brand with the sport and is also acknowledged by the Guinness Book of World Records. When an enthralling game of sport and a global event comes to an end, fans can relate more with a brand if it is placed strategically. Skoda did just that.
The automaker's ads were placed in-stadia and outside the arena in addition to social media, television, print and presence on collaterals. 
Another big winner was the Latvian private commercial bank Rietumu, whose logo was on the headgear of the Latvian team. The bank's support to the home team would go a long way in creating a positive association with consumers.
OlyBet, an online casino and betting website, was constantly cheering for the Latvian team on social media throughout the tourney, providing updates for betting odds to users. The platform is one of the sponsors for the Latvian National hockey team. This is not its only presence in the sport. OlyBet has also partnered with National Hockey League (NHL) and uses the official NHL branding to amplify partnerships in casinos, hotels, food and beverage locations across Latvia, Estonia and Lithuania as well as across OlyBet's digital assets. As an official sports betting partner of the NHL, OlyBet receives digital marketing opportunities across the NHL's social and digital media assets.   
Consumers tend to choose brands that are visible to them during the ups and downs of a team. Tissot and Nike, which are also associated with sports such as basketball, were also among the brands that gain significantly from this historic milestone for Latvia. 
The Right Time
At a time, when competition between marketers is becoming stronger, brands must convey their messages better, in high-impact formats. Sports is one of the few avenues where the passion for the game, and the country, can unite people together in unimitable ways.
Sport sponsorship deals are generally long-term commitments. In these deals, contractual rights along with the inclusion of features that best suits the company are important factors in driving the return on investments. Latvia's Bronze Medal will have an impact not only on these brands but also on how some of these big-ticket properties are seen by brands and businesses in the future.