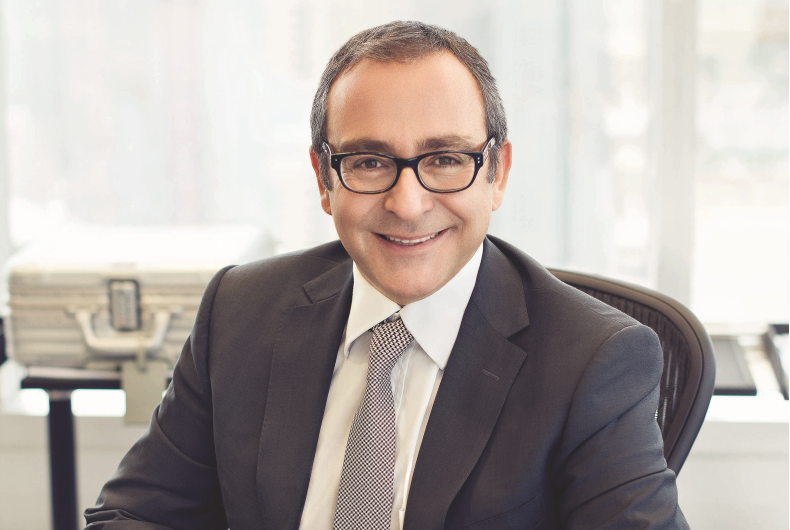 'The Work, The Work, The Work' ––– BBDO's global call sign is the first thing that greets anyone who enters Impact BBDO's Dubai office. High on the laurels of being crowned the Agency of the Year at the 10th Dubai Lynx International Festival of Creativity, and a slew of new business wins including Abu Dhabi Commercial Bank and the consolidation of its long-standing client Etisalat's advertising mandate, the agency has bucked any expected slowdown trend. Nonetheless, Dani Richa, Chairman and CEO, Impact BBDO Group Middle East, Africa and Pakistan, is taking nothing for granted.
In a carefully crafted strategy, the ad man is ensuring his agency is firing on all cylinders to grow its market share. At the centre of the plot are Impact BBDO's fundamentals of work and people. Surrounding this is creating an environment that nurture's its talent, which is finally topped with a development strategy that is eyeing expansion both vertically and horizontally.
A Collaborative Approach
While Impact BBDO is laying disproportionate focus on areas such as technology and research, it is also looking to augment its overall offer by advising marketers on marketing strategies versus communication-only strategies. To this effect, the agency will also be seen entering into a partnership with a marketing consulting company in the second quarter of 2016. "In times that are as challenging as these, it is important to not just advise clients on communication but on their marketing and sales strategy that will assist them in better achieving their business objectives," explains Mr Richa.
Impact BBDO's busy year will also see it identifying right Omnicom partnerships to tap on the growing healthcare industry in the region. The new verticals are chosen keeping in mind not only industry demand but also expertise that will make Impact BBDO's offer more holistic.
"With our brands such as Impact Proximity and Impact Porter Novelli we had set up practices in areas such as digital and PR nearly 15 years ago. These products have now matured and are delivering the best in class," explains Mr Richa.
Consistency Matters
Having grown to a leadership position from a creative background himself, Mr Richa is passionate about ensuring consistency in the agency's work quality across the region. Impact BBDO's mantra is to identify the right leadership and then support it in its endeavor to adhere to the agency's work ethos. "This region is as distinct as it gets. The Middle East, Africa, Pakistan is not one region with similar characteristics but an amalgamation of many very diverse markets. A place like Dubai makes it easy to attract the best global talent. It is not the same for Saudi Arabia or Tunis, and in some ways even about Pakistan, and that is what makes it challenging," Mr Richa says.
Impact BBDO's offices in Kuwait and Pakistan have been applauded at regional and global festivals. "It feels great when our work wins across categories but it is even better when we see the wins coming from newer markets. BBDO Lahore alone gets more awards than all of agencies in Pakistan put together," he remarks.
He asserts that when it comes to making a piece of work great, BBDO's creative leaders are tightly knit, looking to assist in any available opportunity. "It is like a club, and you have to belong. We would rather not be in a country if we don't see a minimum level of quality. We have refused businesses that we did not think would have helped us in building great brands, which is about the best work that works best," he says.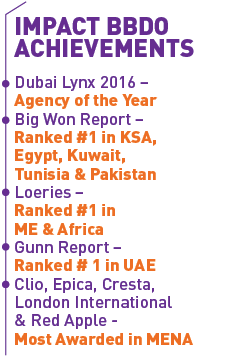 The Work
If there was a one-word take away from the conversation, it would have to be the 'work'. In advertising, that means the people. Mr Richa reminds that irrespective of the BBDO office one would look at globally, everyone is focussed on the work. "It is akin to the 'location' in real estate," elaborates Mr Richa, adding, "This relentless focus is the emphasis that we can have the best strategies and tools, but at the end of the day, people see the work. That is what touches the heart, changes perceptions and decisions. For us, it has evolved tremendously over the last few years. We think ideas instead of media or channels and that is fantastic because there are so many more touch points impacting the consumer journey today. Our job is to identify opportunities that are relevant, meaningful, add value, and are timely."
He argues that people don't want things to be sold to them as much as they would like to participate in conversations. The ask is for ideas and creativity that stands out, making it all the way to the surface on a constant content stream. "That can only happen when the brand brings value. And we are blessed to work with some of the best brands in the world who are market leaders in their categories and share these values," Mr Richa remarks.
Think Stand-up Comedian
Impact BBDO's Dubai office that employs over 250 people, houses 50 different nationalities. For Mr Richa, this is among the agency's greatest strengths. "We are focused on attracting an unfair share of the world's limited talent, and we are able to do so successfully because they see the kind of work we are doing. People make all the difference. We have a set of 10 BBDO values that we are religious about. We choose our people on the basis of these values," Mr Richa states.
Impact BBDO is more than 45 years old in the region. Despite the size it commands, which is reflective in its accolades and market share that sees it in the top three players, the agency attempts to constantly think and work like a creative boutique. In an age that demands agility with scale, Mr Richa advises to think like a stand-up comedian. He says, "Today, the work is rewarded the same night. The success of a stand-up comedian depends on his competency to tweak content based on real-time feedback. It is the same for us, making changes rooted in insight. This has allowed us to craft landmark campaigns that create movements. We work hard on making people our ambassadors, and making them the voice that speaks for the brands. This is the significance of the work, and the focus of our growth and expansion plans."
Four Questions To Dani Richa On Characteristics That Will Shape 2016
Have you begun to feel the pinch of a tough year?
I was a bit concerned in December because everyone I spoke to said that this would be a very tough year for the region. But in the first couple of months we have won new businesses and gained market share. It is not a year of expansion but if opportunities present themselves, then we will seize it. There is no choice but to keep moving forward much like this amazing city we are in that never stops and creates positive momentum.
What does it entail to think ideas?
It requires a certain structure. We have brand teams that are equipped with diverse skill sets that can handle the new complexities of the communication business. For instance, in the social media news room, the team includes an analytics person, a film editor, writers and designers that are of the calibre that can handle mainline media. This allows us a very competent response time, which is critical today. We understand that brands need not be always-on, but what matters is to be on with content that's relevant and meaningful to our customers.
What is the skillset that you need for such structures?
You need a mix of skillsets and we have been widening ours for the last three years. We are hiring engineers, tech and analytics people. The road ahead is about marrying creativity with technology. When we have an opportunity to hire someone, the starting point is outside the industry. We are incubating talent that understands craft but we are also injecting freshness. And that is one reason why despite the growth in competition and the mushrooming of all kinds of companies like media and content that claim to do what is in our DNA, I am yet to see the level of creativity that the likes of BBDO is achieving. We bring consistency and a proven track record.
What is the biggest ask to make a difference in a market that is increasingly becoming more cluttered?
I call it the fast food world of content. To beat it, we have to continue to serve cuisine and find a way of doing so cost effectively since we need more of it. We are starting to produce work ourselves, ensuring a certain quality and speed. To break the clutter, it's important that brands serve content that is purposeful and that touches people's hearts for them to notice it and share it. When people 'like' a piece of work, they don't like it because they like the brand but because they like their friends and feel this piece of content is valuable to them.