The Middle East and North Africa (MENA) region is once again the only regional bloc to record declining advertising spend, as per the latest Zenith Advertising Expenditure Forecast. The December 2017 edition however has some good news to show in the robust growth of internet advertising spends.
According to Zenith's research, internet not only holds 31.9 percent of the overall adspends in MENA, but is slated to grow at 10 percent in 2018. The forecast also states that internet advertising would comprise 44.1 percent of the MENA advertising pie in 2020.
Zenith cautions that overall ad spending in MENA will decline by 6.3 percent in 2018.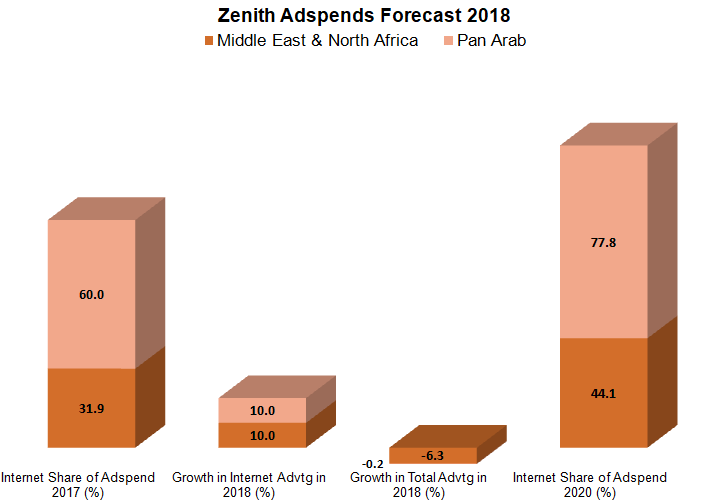 The trends are similar for the Pan Arab region as well. While ad spending in the Pan Arab region will dip by 0.2 percent only, by 2020, internet advertising is said to be around 77.8 percent of the overall ad spending in the Pan Arab region. This number is already at a strong 60 percent, according to Zenith.
MENA's Continued Decline Trend
Zenith predicts global ad expenditure will grow 4.1 percent in 2018, reaching USD 578 billion by the end of the year. There is marginal downgrade expected in North America, Western Europe and Asia Pacific. Latin America and Central & Eastern Europe numbers have been upgraded. All regions, except MENA, would see growth in ad spending.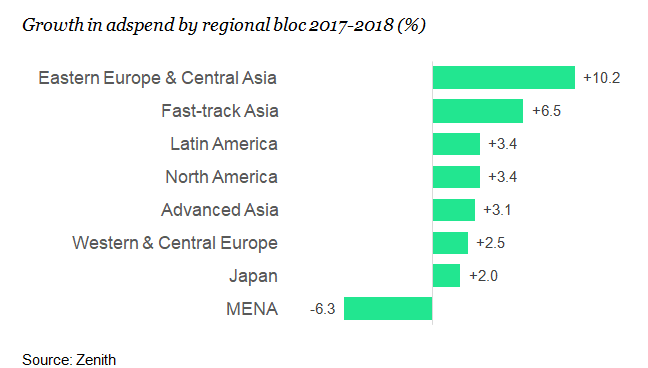 Zenith cites the impact of the oil prices drop in 2014 as a reason for advertisers to cut back their budgets in anticipation of lower consumer demand. The report also says that political turmoil and conflict have worsened, further shaking advertisers' confidence in the region.
"We forecast an 18.6 percent drop in adspend in MENA this year, following 10.0% decline in 2016. The region's decline should moderate in 2018 and 2019, and we forecast very modest 0.4% growth in 2020," quoted a company statement.
The Digital Growth Story
Digital is the superhero in the advertising expenditure story globally. Until 2015, brands struggled to make effective use of internet advertising, and their spend was not matched by the resulting 'brand experience' (an accurate proxy of market share). By 2016 internet advertising accounted for 34 percent of global ad budgets but produced 35 percent of brand experience. Internet advertising is now working harder than advertising in other media.
In this edition of its forecast report, Zenith has also attempted to demonstrate the return on investment (ROI) of internet adspend. "We used our proprietary Touchpoints ROI Tracker tool to compare internet adspend to internet brand experience over the past few years," a Zenith statement explained.
In 2014 advertisers spent 27 percent of their budgets on internet advertising, which produced only 21 percent of brand experience. By 2015, though, brands were using internet advertising more effectively: it accounted for 30 percent of both budgets and paid brand experience, before tipping over in 2016, when brand experience exceeded budget share.
The internet advertising share of global adspend will continue to rise, reaching 40 percent in 2018 and 44 percent in 2020. Its value will rise from USD 203 billion in 2017 to USD 225 billion in 2020.
Top Global Advertising Trends
Big platforms are capturing digital growth:
The internet is driving the great majority of global growth in advertising – it will account for 94 percent of the growth in adspend between 2017 and 2020. And most of this will be captured by just five big platforms – Google and Facebook, plus the Chinese platforms Baidu, Alibaba and Tencent.
Big countries are adding most ad dollars:
In dollar terms, most of the growth in global adspend is coming from a few big markets. Two countries – the US and China – will contribute 47 percent of new ad dollars between 2017 and 2020. The five biggest markets – the US, China, Japan, the UK and Germany – will contribute 57 percent.
Big cities are driving global adspend growth:
Big cities are driving global adspend by concentrating growth in productivity, innovation and trade. Zenith forecasts that the top 10 cities alone will contribute 12 percent of all global adspend growth this year, and that the top 725 will contribute 60 percent.
Advertisers feel the pressure:
Advertisers are feeling pressure from the rapid transformation of their businesses, exemplified by the rapid shift of marketing communications to online media in response to changing consumer behavior, and the polarization of growth to big platforms, big countries and big cities.
"We are seeing a battle played out in business, marketing and media between big players and small players. Growth is coming from big countries and big cities, and being captured by big platforms. Brands should focus on upstream strategy, data-informed UX planning and downstream automation," said Vittorio Bonori, Zenith's Global Brand President.
List of countries included in the Zenith's regional blocs:
Middle East & North Africa: Bahrain, Egypt, Israel, Kuwait, Oman, Qatar, Saudi Arabia, UAE
North America: Canada, USA
Western & Central Europe: Austria, Belgium, Bosnia & Herzegovina, Croatia, Czech Republic, Denmark, Finland, France, Germany, Greece, Hungary, Ireland, Italy, Netherlands, Norway, Poland, Portugal, Romania, Serbia, Slovakia, Slovenia, Spain, Sweden, Switzerland, UK
Eastern Europe & Central Asia: Armenia, Azerbaijan, Belarus, Bulgaria, Estonia, Georgia, Kazakhstan, Latvia, Lithuania, Moldova, Russia, Turkey, Ukraine, Uzbekistan
Japan
Advanced Asia: Australia, Hong Kong, New Zealand, Singapore, South Korea
Fast-track Asia: China, India, Indonesia, Malaysia, Pakistan, Philippines, Taiwan, Thailand, Vietnam
Latin America: Argentina, Brazil, Chile, Colombia, Costa Rica, Ecuador, El Salvador, Mexico, Panama, Peru, Puerto Rico, Uruguay, Venezuela