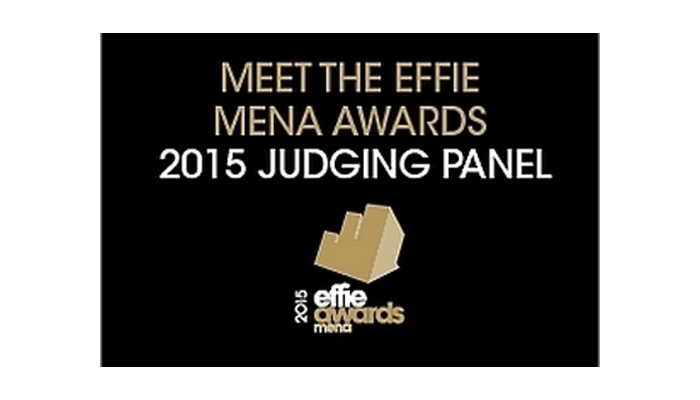 The judging for this year's Effie MENA Awards began today which will conclude tomorrow.
The Effie Awards is a marketing communications awards given yearly by Effie Worldwide, a nonprofit organization, to honor the most effective marketing communications ideas. The Effie Awards were started in 1968 in the United States by the New York American Marketing Association. In the Middle East and North Africa, the Effie awards are organised by Mediaquest.
Members of the Effie MENA Awards judging panel for this year include more than 80 international and regional judges: Ian Armstrong, Advertising General Manager at Jaguar Land Rover, UK; Dany Doueik, Chief Commercial Officer at VIVA/STC; Ajay Keerthy, Head of Marketing UAE & MENA – RBWM Marketing at HSBC Bank Middle East; Felix H Weller, Managing Director Sales & Marketing – Cadillac at General Motors; Islam El Dessouky, Integrated Marketing Communications Manager at The Coca-Cola Company; Thomas Delabriere, Vice President Marketing – Middle East, Turkey and Africa at MARS GCC; Asad ur Rehman, Director Media – MENA at Unilever Gulf FZE and Vikram Krishna, Head Group Marketing & Customer Experience at Emirates.
 The Effie MENA awards judging process comprises two rounds. The first round sees submissions assessed on a stand-alone basis without comparison to other entries in their respective categories. The second round involves the finalists being judged within their respective categories. In evaluating each of the submissions, the judges are asked to use four specific criteria; 'Strategic Challenge,' 'Idea,' 'Bringing the Idea to life' and 'Results.' The last of these four categories, 'Results,' assesses the effectiveness of the campaign and with 30 percent of the total, provides the lion's share of the scoring. The three other criteria are worth the remaining 70 percent, with the scoring split equally among them. All voting is undertaken confidentially.