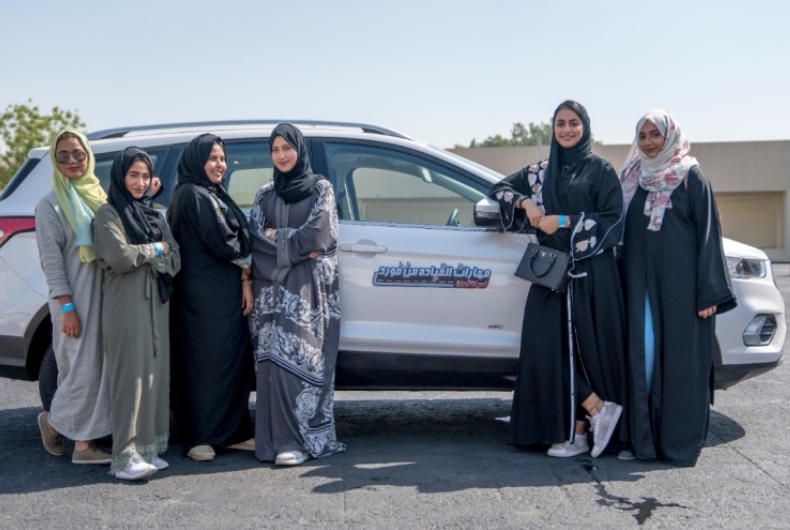 Ford Motor Company has begun the inaugural session of Ford Driving Skills for Life for Her, a special variation of Ford's global safe driving program for teens and new drivers, in Saudi Arabia.
Ford Driving Skills for Life for Her, in partnership with Effat University in Jeddah, is part of Ford's endeavors to help young female drivers feel safe and confident when they get behind the wheel for the first time, with the company excited to be welcoming a new generation of women to the driver's seat.
Coinciding with International Women's Day, this event will have trained more than 250 students at the women-only university by the week's end, with plans to make Driving Skills for Life for Her an on-going programme for the Kingdom's female drivers.
Ford Driving Skills for Life for Her marks the second initiative the company has launched in Saudi Arabia aimed at empowering women and giving them the skills they need to embark on their journey with confidence. Last year, Ford Fund – the philanthropic arm of Ford Motor Company – debuted its Henry Ford Entrepreneurship Academy in the Middle East, also at Effat University, providing 50 Saudi female entrepreneurs with the tools and knowledge needed to sustain their businesses.
"Providing access to opportunities for people to reach their full potential is core to our mission and Ford's goal of becoming the world's most trusted mobility company," said Jim Vella, President, Ford Fund.
While visiting the Kingdom specifically to mark this momentous week, Mr Vella added, "The fact that the program takes place around International Women's Day, a global day celebrating the social, economic and cultural achievements of women, is no coincidence. We are thrilled to be part of this historical milestone as we bring Ford Driving Skills for Life for Her to Saudi Arabia, to help young female drivers feel safe and confident behind the wheel for the first time, and we look forward to welcoming a new generation of women to the driver's seat."