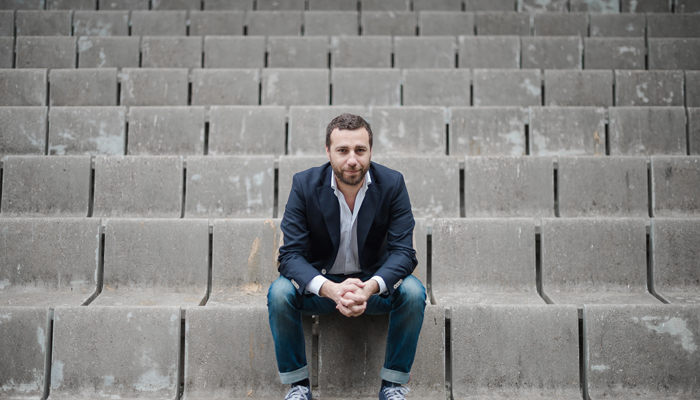 The sports entertainment genre on television is a relatively young one in the Middle East. It was only about 18 years ago that the satellite-broadcasting boom gave way to 24-hour Arab sports channels. The channels programming covered international sports along with regional ones such as camel and horse-racing to action sports namely skateboarding, snowboarding, surfing, BMX, motocross and wakeboarding. One such action sports channel that has trained its guns to cover more ground in Middle East and North Africa (MENA) is FUEL TV. Part of an international network, FUEL TV claims to reach 18 millions households, across 68 countries. OSN distributes the channel in MENA.
Of Regional & Global
This month FUEL TV covered the WWA Wake Park World Championships, at the Al Forsan International Sports Resort, in Abu Dhabi with the aim of increasing its footprint in the region. The coverage of this event is part of FUEL TV's strategy to boost regional content.
Explaining the thought process behind the initiative, Rui Ventura, VP, Marketing & Sales EMEA, FUEL TV said, "Given that Wakeboard is one of the core sports featured by FUEL TV, we could not miss the opportunity to air the Wake Park World Championship hosted in Abu Dhabi, at the Al Forsan International Sports Resort. This represents a great opportunity for local and regional athletes such as Omeir Saeed, Khamis Shamsi and Phoebe King from the UAE, or Khaled Alawadhi and Shaikha Al Nouri from Kuwait, that competed in Abu Dhabi and will be featured globally. The Wake Park World Championship is just the first of many local and regional shows to come. FUEL TV is committed to increase the content from, and for, the Middle East region."
The channel is not only upped focus on athletes but overall content itself. FUEL TV always has had regional content such as the documentaries 'Skate Arabia' or 'White Silk Road'. The channel is now focusing on increasing and updating the regional content. Mr Ventura explained, "FUEL TV is a niche brand that needs to be as close to its audience as possible. With over 30 per cent of its population between the ages of 15 and 29, representing over 100 million youth, the region is facing a 'youth bulge', according to a Brookings Institute recent report. FUEL TV caters to this exact age range target. Moreover, the action sports scene is booming in the region and especially in the UAE, so it makes perfect sense for us to boost our regional content."
The Love Brand
In addition to its coverage of popular sports and action sports, the channel features original programming, consisting of commissioned series, special shows, films and Live events. "Our proximity to athletes and action sport tribes, mixed with our creative house, allows us to create unique quality content. Our viewers are loyal to the channel because we speak their language. FUEL TV is more than a channel – we see it as a Love brand," said Mr Ventura.
The channel's marketing strategy attempts to embrace this as well. Dubbing it a 'simple' approach, Mr Ventura explained that the channel looks to mark its presence, and become part of the audiences. FUEL TV caters to a young audience that is not only fond of live action sports, but is also both trends and tech savvy. One way of doing it is through social media which is prevalent in its core target audience. "We also have a strong presence in all the important action sport events and competitions by giving it editorial coverage, through brand activations or other relevant ways of brand promotion."
This is not to say that FUEL TV's ambitious plans are not met with challenges in the region. The fact that action sports is still evolving in MENA is perhaps the biggest challenge. "As per our motto 'risk is the only rule', we take the challenge positively," commented Mr ventura, adding , "We want to be part of the action sports growth in the region by helping promote the athletes, the events, the spots where these tribes gather and the lifestyle that revolves around it."
The other obvious challenge is promoting the FUEL TV way in the region. If Mr Ventura's plans are anything to go by, this is one area where we will hear more from the sports channel.
Five Qs to Rui Ventura on making sports channels a profit-making game and more
A recent study indicates that only 4 per cent viewers watch sports, but every cable subscriber pays for it. How do you view this?
FUEL TV is probably the exception to the rule. Our viewers are very loyal to the channel and when they subscribe to paid TV packages, they want and actually watch the channel. We register the best Viewer Concentration on the male audiences – M12-17, M12-24, M12-34. In addition, FUEL TV is not only about action sports is also about urban lifestyle, music, street art which are topics that interest to a more vast part of the young population. That is why it is possible to find FUEL TV on different OSN packages such as the Premium, Entry or even OSN Pinoy.
To negotiate higher rates from cable companies, you need subscribers to demand your service. For a sports network that somewhere means stockpiling the rights to live sporting events that can be rebroadcast and repackaged. What is FUEL TV's strategy on this?
We balance our content play. We do not stockpile rights but create original and exclusive series, because that is the differentiator. We have 21 different, Emmy award winning series, some of which are now in the 14th season such as 'Camp Woodward', 'New Pollution', 'Firsthand' or 'Built to Shred'. We also buy rights globally or regionally according to the markets' necessity. We have live events such as 'Street League of Skateboard', 'Crankworx', 'X games' and we are always looking for newer opportunities.
How are you utilizing online and mobile platforms for higher visibility and making more profits of the games?
As a channel dedicated to younger audiences, being online and mobile is crucial for FUEL TV. We already have a very strong presence on social media, with more than half a million followers in all our pages, including a regional Facebook account. We widely use these tools to promote our shows and boost the action sports scene in general. For 2016, we are investing a lot in getting the message across the web and mobile platforms. To start with, we will re-launch our website very soon. This platform will be used to promote the content of the channel. We will also launch a mobile app that will allow us to connect our content directly to our audience and enhance the interaction with our public. We also have the distribution of OTT (over-the-top) content, which will be perfect for those who are looking for a more tailor made experience with FUEL TV, on the cards too.
How much beyond games and scores will you go? For instance, how much of an athlete's personal life will you get into?
We will definitely be more than just scores. Around 70 per cent of our original series are script based, and revolve around the athletes and their relations with sport, the fans, the communities and the culture that surrounds them. This makes our content unique and oriented to a storytelling concept rather than being just games and scores. As an example, our show 'Firsthand' is dedicated to the athletes' personal lives, the hurdle they go through to get sponsorships, the behind-the-scenes of the competitions or the challenges that athletes face throughout the year to achieve their goals. This is something that we will be doing for the Middle East as well featuring regional athletes. We are coming up with the production of new episodes for our original series, and the region will naturally be included.
What sports do you play personally?
I'm a thrill-seeker. I was always around action sports since my early years. I did BMX, skateboarding, surf and snowboarding. I still snowboard and skate. At present, my plans are more focused on teaching my kids how to skate and have a sportive lifestyle.