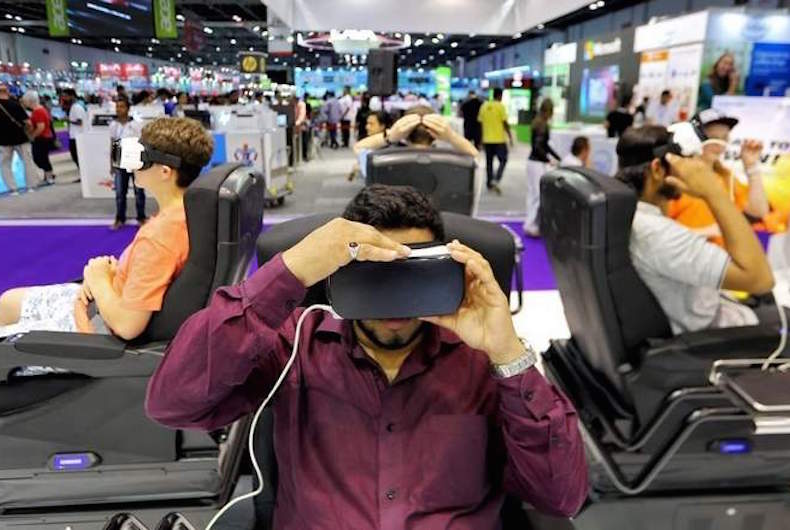 The ongoing GITEX hosted some of the most forward looking technologies that promise to make an impact on all aspects of business, economy, payments and even marketing in the Middle East & North Africa (MENA) region.
Some of the headlines include new launches from the likes of du, Qualcomm, Microsoft, Visa, Dell EMC and the likes.
du-Qualcomm's Multi-Gigabit Wi-Fi Tech
Teleco du and Qualcomm Technologies have said to successfully showcase 802.11ad Multi-gigabit Wi-Fi technology (also known as WiGig), a first in the Middle East region, paving the way for rapid deployment of 802.11ad in the region. "We are currently working with other companies to add this technology to our Wi-Fi portfolio and make it available for all users in UAE," said  Saleem AlBlooshi, Executive Vice President of Network Development and Operations at du.
Microsoft's Windows Server 2016
Microsoft demonstrated the power of the most recent IT infrastructure innovations, unveiling Windows Server 2016 and System Center 2016 in the Middle East. Windows Server 2016 houses a cloud-ready application platform, robust built-in security, and tools to build software-defined infrastructures – everything customers need to embark on digital-transformation ventures. "The UAE is a nation of early adopters, from its government and businesses, right down to its tech-savvy consumers. The new editions of Windows Server and System Center stand ready to knit the third platform together – cloud, mobile, analytics and social networks all permeate our new digital lives," said Necip Ozyucel, Cloud and Enterprise Business Solutions Lead, Microsoft Gulf.
Dell's Next Generation Of It Professionals
Dell EMC closed its annual graduation project competition for the Middle East, Turkey and Africa called "Envision The Future". The competition was open to senior undergraduate students enrolled in the EMC Academic Alliance program, and saw three winning teams emerge from 22 universities. The winning projects were from King Saud University in Saudi Arabia, Helwan University in Egypt and King Faisal University in Saudi Arabia. With women constituting 40% of the entries, the competition brought women to the fore as key enablers of IT in a new age of rapid digitization. "By working with students, who represent the next generation with a unique view of the world, we can identify challenges and deliver solutions based on new technologies and innovative business models, which will help us achieve our vision of building a better world," commented Mohammed Amin, Senior Vice President and Regional Manager, Turkey, Eastern Europe, Africa, and Middle East, EMC Corporation.
Visa's Payment Prototypes
Visa showcased the latest prototypes it has developed to demonstrate the simplicity of digital payments in the near future: Morphowave Coffee Shop allows customers to pay by fingerprinting; Biometrics ATM enables banks to let customers use fingerprinting to process ATM transactions; Iris Scan facilitates payment transactions simply by having customers scan their eye; and Banking Chatbot is an Artificial Intelligence (AI) technology that services customers and saves them a hassle of waiting in virtual and physical queues. John McGuire, Vice President of Innovation and Strategic Partnerships, Visa, CEMEA region, commented, "Each of the prototypes Visa has developed enables customers to process payment and service transactions without having to carry a physical device. The future of digital payments lies heavily in the field of biometrics and Visa is there to ensure that the network that facilitates these technologies is seamless, fast and secure."
Samsung's VR Roller Coaster Ride
Having experienced Samsung's Virtual Reality (VR) roller coaster myself at Cannes Lions International festival of Creativity, it comes as no surprise that it achieved a Guinness World Record for getting most participants in one hour at GITEX. The moment you put the Oculus VR on, you get to experience the same thrilling roller coaster ride as in the real world. "Attempting this virtual reality world record underlines Dubai's commitment to innovation," said C. Purushothaman, Head of Marketing (Smartphones & Tablets), IT & Mobile Division at Samsung Gulf Electronics.