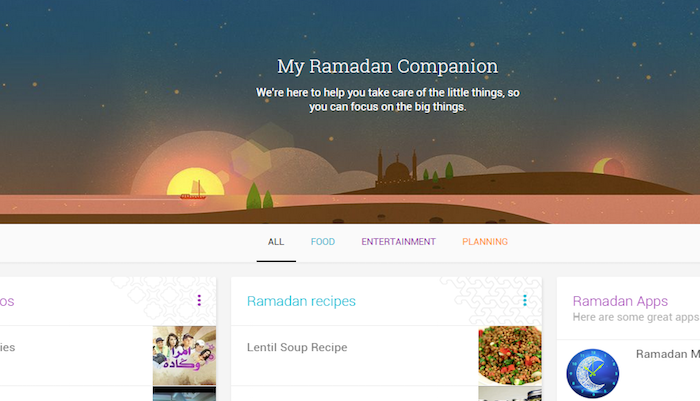 Google has launched 'My Ramadan Companion', a digital hub that integrates Google's technology like YouTube, Play, Maps and Search. The hub offers customized local information throughout the month of Ramadan with features that include sunset time in a given country, popular shows on YouTube, cooking tutorials, traffic status, and calendar planning.
As part of the 'My Ramadan Companion' experience, Google is releasing locally designed Google Now Cards dedicated to the holy month. Google Now is a feature within the Google Search mobile application that automatically organizes information into simple mobile-friendly cards which provide information, updates and assistance throughout the day. Ramadan Google Now Cards work based on preferences of users who can control the information they receive by managing their settings. The hub is available in five languages: English, Arabic, Turkish, Bahasa Indonesian and Bahasa Malaysian.
"My Ramadan Companion" also aggregates local content on YouTube from more than 15 content creators across Saudi, Egypt, Jordan, Morocco and more. It will feature trending YouTube content from drama series, comedy sketches, health tips, delicious food recipes, and more.
"We know how important it is for people who celebrate Ramadan to spend time with their loved ones. We hope that "My Ramadan Companion" can take care of the little things that occupy people's daily lives like managing their day, so that they focus on the things that really matter to them," commented Zain Kamal Masri, Product Marketing Manager, Google MENA.
There are many digital trends that are witnessed during Ramadan especially having specific online searches for cooking, gaming, TV shows, beauty along with having a more long-form content and engagement. According to the search giant, mobile search queries surpassed that of desktop during Ramadan last year.