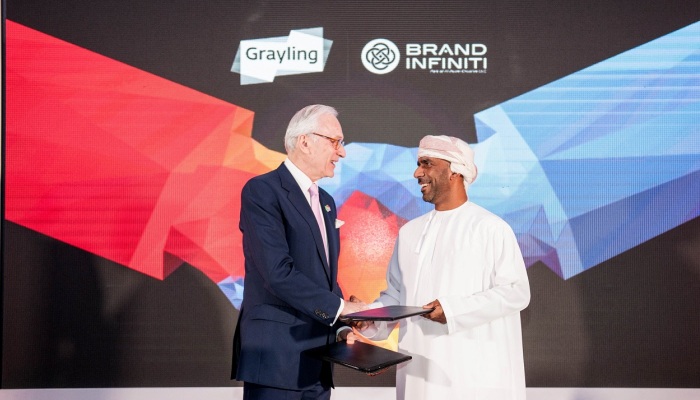 Grayling, a global communications consultancy, announced the launch of a new office in Muscat, Oman, following the creation of a partnership between its parent company, Huntsworthplc and local Omani company, Al Reem Creative LLC.
In close collaboration with Brand Infiniti, Al ReemCreative's subsidiary, Grayling Oman aims at providing 360° communications and digital marketing services to clients across the country's flourishing industries including financial services, healthcare, infrastructure, technology and travel and tourism.
The Muscat office will coordinate with Grayling's other Middle East consultancy teams in Abu Dhabi, Doha and Dubai, and will be overseen byLoretta Ahmed, Grayling's Chief Executive Officer for Middle East, Turkey & Africa.
"Business opportunity has led us to Oman. We are committed to a strong and successful partnership with Brand Infiniti, Oman's most technologically advanced and inventive creative business. Our clients from other Middle East markets want us to service them in Oman and we have several successful mandates already underway. Our new Oman operation will help us provide a more comprehensive offering to clients across the Middle East and to international clients with growing needs in one of the most interesting countries in the region," commented Lord Chadlington, Chief Executive Officer, Huntsworthplc and Chairman, Grayling.
"Brand Infiniti is incredibly excited about our partnership with Grayling, one of the world's leading public relations companies. Our objective is to work together to bring the very best creative skills and the highest standards of client service to Oman. We aim to help companies and government harness new visual technologies, so that they can connect with their stakeholders and customers in more exciting, compelling and memorable ways," shared Sheikh Khalid Al Wahaibi, Chairman, Brand Infiniti.
"We are thrilled to expand our international network into Oman – a country that is undertaking extensive efforts to diversify its economy. Through our Middle East internship programme, Grayling will look to support young and talented Omanis with the opportunity to work with some of the country's biggest brands, and to develop their PR and digital skills in an international consultancy environment," added Loretta Ahmed, Chief Executive Officer, Grayling Middle East, Turkey & Africa.
Brand Infiniti is one of Oman's media solutions for integrated creative content and visual technologies. It offers aerial filming and photography, underwater photography and filming amongst others.
Paul Flandinette, CEO of Brand Infiniti, said, "Through our partnership, Brand Infiniti and Grayling can transform the Omani communications landscape, by bringing world-class creative quality and capability to all our clients."