The year 2017 has not been easy for the advertising pie in the Middle East & Africa (MEA) region. In GroupM's most recent investment forecasts, the media investment group has indicated a decline of 5.1 percent in adspends in the MEA region in 2017.
The report however predicts recovery in 2018 by 5.3 percent. This will bring the advertising spend figures back to USD 11,416 million, which is in similar to what was seen in 2016.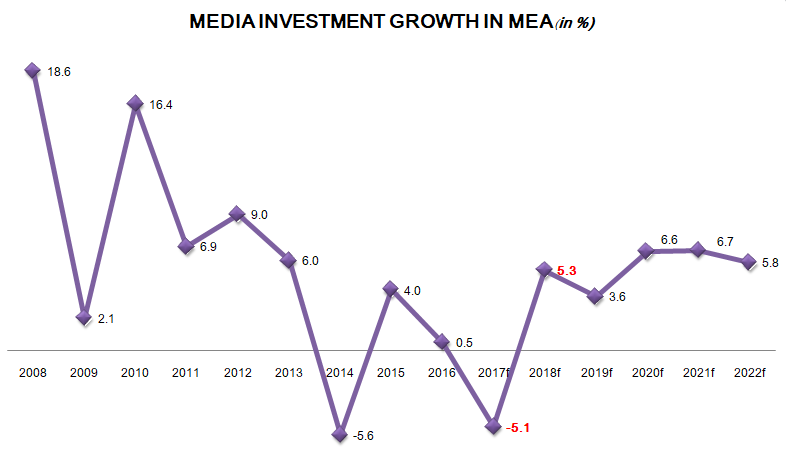 GroupM is expecting growth in the next few years in the media investments in the region. While its forecast for 2019 is 3.6 percent growth, it forecasts upwards of 6 percent growth for both 2020 and 2021.
Global Trends
Globally, GroupM anticipates growth of 3.1 percent this year and 4.3 percent in 2018, an increase of USD 23 billion next year. GroupM points to global GDP growth with rising consumer demand, fixed investment, industrial production and exports as contributors to its more positive outlook for 2018. However, identified risks are weak investment and productivity, as well as the specter of excessive debt, which may deter policymakers from raising interest rates.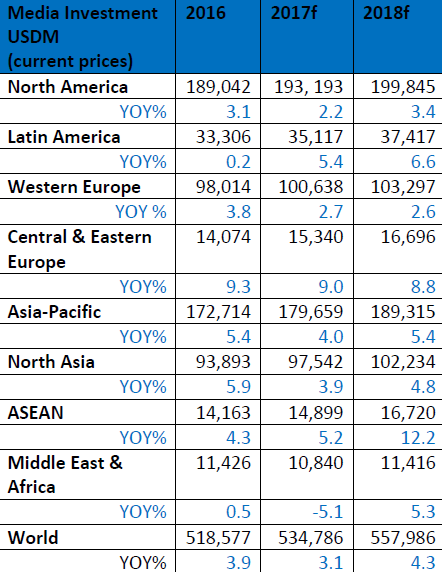 "Growth is wide with more people working, but shallow with wages growing slowly. If the global economy sustains its rising demand for labor, it may reveal a widening skills gap. Then, competition should raise wages, spurring investment in productivity and helping inflation to finally surpass central bank targets," said Adam Smith, Futures Director, GroupM.
Of key interest to marketers is advertising's share of global GDP, which is predicted to be 0.7 percent in 2017 and 0.69 percent in 2018. This reflects a long trend of decreasing share for advertising, often cited as evidence of a structural industry challenge. However, GroupM believes a large factor is the amount of 'ad money' now directed to data and technology for consumer engagement in digital.
"For every dollar that migrates from legacy to digital media, GroupM estimates that 25 cents go to technology and data. This is not counted in a now antiquated concept of working media investment. We also know that in periods of low inflation, marketing money gets reallocated to promotion; this is a cyclical challenge, not a structural one," added Mr Smith.
Globally, television investment will grow 0.4 percent in 2017 and 2.2 percent in 2018, but TV will lose one share point this year and another next. Digital investment growth is expected at 11.5 percent in 2017 and 11.3 percent next year; its share will increase from 34.1 percent this year to 36.4 percent in 2018.