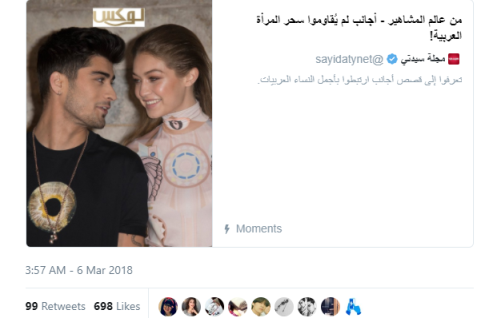 Twitter's efforts to help brands be relevant in the moment had led to the genesis of Twitter Moments, a feature that combines multiple tweets into one. Twitter officials inform that more people are consuming Twitter Moments, including the ones created by publishers in sports, entertainment and news. Sponsored Moments, a new In Stream Sponsorships feature and part of this overall endeavor, brings premium inventory to advertisers.
Lux Arabia ran a Twitter sponsored Moments campaign to integrate into the International Women's Day conversation by partnering with Sayidaty. The brand sponsored four Moments around the day and separately, served pre-roll ads in front of premium video from Sayidaty around the event as part of Twitter's In Stream Sponsorships.
⚡️ "مشاهير – أجانب لم يُقاوموا سحر المرأة العربية!"#اليوم_العالمي_للمرأةhttps://t.co/ZrgcVSnRI1

— مجلة سيدتي (@sayidatynet) March 6, 2018
Given that Sponsored Moments includes interstitial Tweets from the brand as well as a branded cover, and advertisers can promote the Moment to a specific target audience, it expands reach beyond the content partner's existing followers.
"Our collaborative campaign exceeded our expectation by delivering outstanding results. We were the first publisher to produce content for International Women's Day through Twitter's sponsored Moments," said Nour Almasri, Regional Digital Director, Sayidaty.
"One Moment achieved over 160K views with a 60 percent completion rate. It is amazing to see how good content reflects our reach on the Twitter Moments feature; it combines the best solutions to both engage publishers with premium content as well as offering clients greater exposure to Twitter audiences, whilst increasing reach," she added.
Sponsored Moments are an extension of In-Stream Sponsorships, which are customized programs where brands and publishers are paired up on a 1:1 basis. The goal with sponsored Moments, as with all In-Stream Sponsorships, is alignment between advertiser messaging and partner content. By working with premium publishers as part of an In-Stream Sponsorship, brands know exactly which partner they are working with, and can develop deep brand integrations within that partner's content.
For publishers, sponsored Moments is an end-to-end contextual solution for publishing and monetizing all forms of content on Twitter, including Tweets, photos, videos and GIFs. It allows publishers to easily do what they do best: produce and tell stories about events.
As a new feature of In-Stream Sponsorships, sponsored Moments are just one more way publishers can monetize their content on Twitter, while making it easier for advertisers to reach audiences and sponsor premium content.