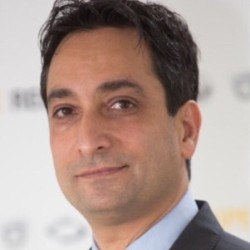 Nissan has appointed Peyman Kargar as Senior Vice President and Chairman of its Africa, Middle East, and India (AMI) region, effective from April 1, 2017. He replaces Christian Mardrus who takes up the newly created position of Senior Vice President, Digital Transformation for Nissan Motor Co., following two years as AMI Chairman.
In this role, Mr Kargar will lead the regional management committee and be responsible for business strategy and performance for both the Nissan and Datsun brands with all functional heads reporting to him. He joins Nissan from its alliance partner Renault, where he has worked since 1996 in a number of senior management posts. His most recent position was as Renault's Vice President, Sales & Marketing AMI.
"The AMI region is poised for significant and sustained, long term growth and is becoming an increasingly important market for Nissan. Peyman brings with him a wealth of senior experience from this part of the world with our Alliance partner Renault, which will be vital in continuing to drive our business forward by meeting the needs of an expanding and evolving customer base," said Nissan's Global Chief Performance Officer, Jose Munoz.
"I am delighted to join Nissan at what is an exciting time for the region. A strong foundation has already been laid in terms of compelling products, strengthening brand and expanding industrial presence and I'm looking forward to building on this in the coming years," added Mr Kargar.
The auto manufacturer has also named Kalyana Sivagnanam as its Regional Vice President, Marketing and Sales, for AMI. Mr Sivagnanam, aka Shivi, will also be President of Nissan Middle East. In his new role, he will oversee all marketing and sales in the AMI region and will also assume overall responsibility for Nissan's business in the Middle East including Saudi Arabia and Turkey.
The appointment comes as the region becomes increasingly significant for Nissan's global business.
"I am delighted to join Nissan and look forward to building on the company's success in the AMI. This region includes some the fastest growing, most promising economies in the world. Nissan is committed to offering our customers the best cars and customer service," Mr Sivagnanam said.
Mr Sivagnanam has more than 18 years of experience in the automotive industry. He has joined Nissan from Ford where he led the development of the Lincoln and Ford brands in the Middle East and Africa as Vice President of Marketing, Sales and Service.
"Shivi brings to Nissan a deep knowledge of Africa, the Middle East and India and a strong track record of success. The region is becoming increasingly important to Nissan, and we are focusing on offering vehicles even more closely tailored to the needs of our customers in these markets," added Mr Munoz.
Nissan already has a sizable presence in the region with more than 15,000 employees supporting the business across 87 countries. It has four major regional hubs controlling marketing and sales, and related functions, in the United Arab Emirates, India, Egypt and South Africa – as well as satellite offices in other key markets including the Kingdom of Saudi Arabia. Manufacturing facilities are located in India, Egypt, South Africa and Nigeria with a combined annual production capacity of more than half a million units.