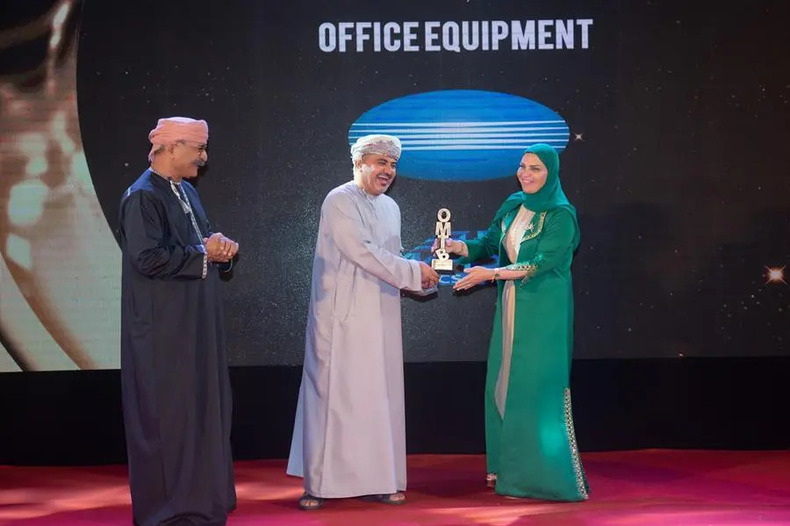 MHD-ITICS, the Infrastructure, Technology, Industrial and Consumer Solutions cluster of Mohsin Haider Darwish LLC, was declared the winner in three different categories at Oman's Most Trusted Brand 2022 Awards. The winners in each category were decided through an online survey conducted in Q3 2022, in which over nine hundred thousand participants voted for this edition of the awards.
Honor for mobile phones, Konica Minolta for office products and Akai for home appliances brands were declared winners in their respective categories. While Akai and Konica Minolta are the recipients of the award for the second year in a row, it was the first time for Honor. Honourable Lujaina Mohsin Darwish, the Chairperson of MHD-ITICS, accepted the awards for MHD-ITICS, at a glittering function held recently.
The awards ceremony, held under the patronage of His Excellency Eng. Said bin Hamoud al Ma'awali, the Minister of Transport, Communications and Information Technology, was held at Al Bustan Palace – A Ritz-Carlton Hotel on March 6, 2023.
"We are thrilled and honoured to have won these prestigious accolades for the second year running at Oman's Most Trusted Brand Awards. We are extremely proud to be associated with brands that are trusted and recognised by the discerning customers in Oman," said Honourable Lujaina Mohsin Darwish. "At MHD-ITICS, we believe that trust is the foundation of any successful partnership and therefore, we strive to build strong relationships with our customers and partners. We aim to always exceed their expectations and provide them with an unforgettable experience at every touchpoint. Being recognised for our hard work only serves to motivate us further in our pursuit of excellence," she added.
The winners were chosen based on a rigorous selection process that involved an online survey, which was conducted over a period of several weeks and was open to all consumers across Oman. The survey sought to identify the brands that had earned the trust of their customers and had delivered consistent quality, innovation and value over time.
Honor, Konica Minolta and Akai are three popular and well-known brands that have made significant contributions to their respective industries. Honor is a smartphone brand that offers high-quality devices with advanced features at affordable prices. MHD-ITICS recently became the exclusive distributor of Honor phones in Oman and within three months of operations has managed to bag this prestigious award. Konica Minolta, on the other hand, is a leading provider of imaging and printing solutions for businesses and individuals. With a focus on innovation and sustainability, the company offers a wide range of products and services designed to improve productivity and efficiency. Akai, with its roots in Japan, has been a pioneer in the consumer electronics industry for over 90 years, known for its high-quality products. These brands have established themselves as reliable and innovative leaders in their fields, earning the trust and loyalty of customers worldwide.
MHD-ITICS has been making significant strides in recent years, under the guidance of Honourable Lujaina Mohsin Darwish. The company has been at the forefront of setting new benchmarks in the industry and supporting local talent. Its core management team has devised a three-pronged business strategy that includes growing existing businesses, expanding into adjacencies and similar domains, and diversifying into new business areas. The diversification and expansion strategy focuses on both domestic and overseas markets, especially in the areas of technology and digital enterprise, through acquisitions and investments. The company is continuously adding new products and services to its already extensive portfolio to meet market demands. MHD-ITICS aims to reinforce its position as a leading solutions provider in Oman and continue its journey of excellence and innovation.