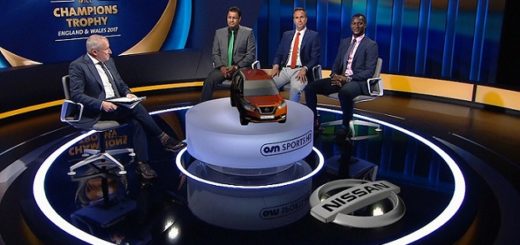 The International Cricket Council's ICC Champion's Trophy 2017 in England and Wales came to a thrilling conclusion on June 18 with a final played between fierce rivals Pakistan and India. It was a showdown that met with huge approval in the Middle East, where both teams enjoy massive support.
Nissan, as the sole global automotive sponsor of the ICC and this once every four years, one day international (ODI) competition, was in the thick of the action throughout the tournament with the assistance of a tie-up with OSN, the exclusive ICC Champions Trophy 2017 broadcaster, to showcase live, in-game highlights.
Through this initiative, Nissan granted free, unexpected access in the region to video highlights of all the games of the ICC 2017 Champions Trophy 2017.
According to a company statement, a quarter of a million of cricket fans in the Middle East experienced condensed content every hour of every game through a period of 18 days.
Nissan's sponsorship of the ICC is part of a long-term commitment to cricket, a sport with a huge following in the Middle East and North Africa (MENA), largely credit to the presence in the region of expats and migrant workers from some of the major cricket playing nations.
"We know that many Nissan owners in the Middle East love their test match and ODI cricket, so our sponsorship of the ICC makes perfect sense. However, our partnership with OSN and the resulting co-branded micro site really took things to another level, allowing cricket fans to access the best of the action from the ICC Champions Trophy 2017 virtually as it happened," said Nissan Middle East Chief Marketing Officer Fadi Ghosn.
"OSN is the home of cricket in the region and our partnership with Nissan enhanced our coverage of the ICC Champions Trophy 2017. Not only could OSN subscribers enjoy the live matches on OSN Sports Cricket HD and streamed on OSN Play, together with Nissan we made the live in-match highlights available to the region for free on a micro site. Nissan were also part of OSN's live studio shows where Nissan were integrated into our Augmented Reality Graphics. This was a 360-degree sponsorship and we are very proud of what OSN and Nissan have both put together," added OSN SVP Sport & Sports Production Andy Warkman.
With the tournament taking place during the holy month of Ramadan, in the Spirit of the sponsorship and creating #MomentsThatCount, Nissan ran a competition allowing one lucky player to win an All New Nissan Kicks.
Further prizes included signed merchandise from OSN's cricket legends Michael Vaughan of England, Zaheer Khan of India, Pakistan's Waqar Younis and West Indies' Darren Sammy.
Traffic was driven to the web channel via cricket enthusiast sites Cricbuzz and CricInfo, OSN channels and social media pages, while further co-branding during the OSN Showtime studio coverage of the tournament also highlighted Nissan's sponsorship of the event.
"We have really taken a new approach and gone beyond traditional media buy in order to maximise the benefits of our cricket sponsorship through our partnership with OSN during the ICC Champions Trophy 2017 tournament. It's an illustration of how we apply the notion of 'Innovation that excites' to more than just our cars," added Mr Ghosn.