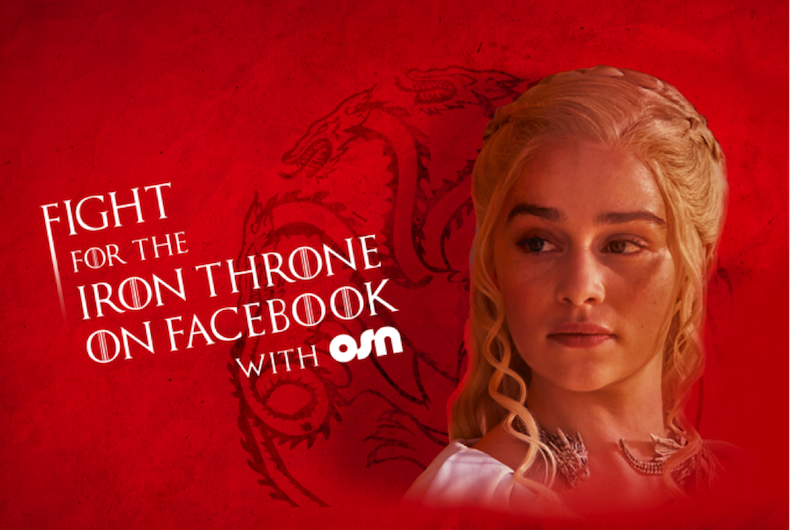 To launch the highly anticipated season 7 of Game of Thrones, OSN, in partnership with their social media agency, Socialize, has created a Facebook Messenger Bot in the region, allowing users to chat with the series' most iconic characters and join the fight for the Iron Throne.
OSN's premiere bot offers an inventive way for Game of Thrones fanatics and new discoverers alike to step inside the Game of Thrones universe. "We jumped at the opportunity to become the first entertainment brand in the region to launch a Messenger Bot and what better time than with the arrival of Game of Thrones season 7. Our objective was to not only offer a fun platform for seasoned Game of Thrones fans to play with, but rather offer a fun way for potential new fans to discover the series and that has changed the face of television forever," said Majd Abi Ali, Head of Social Media, OSN.
"We're proud to be the only television provider in the region that airs the latest Game of Thrones episodes at the same time as the US, with the added benefit of being able to catch-up on episodes on OSN Play also. Our bot is the perfect addition to welcoming this exciting new season," added Mr Ali.
The bot offers a simple yet captivating platform to engage with the series most iconic characters. The user starts their journey by pledging their allegiance to one of the Game of Thrones houses, upon doing so they have to engage with a sharp witted back-and-forth dialogue with the likes of Jon Snow, Daenerys, Arya Stark and more, eventually earning prestige with the house leaders.
"Facebook bots allow us to create charismatic dialogues and uniquely imaginative customer experiences for our audience; experiences that feel personalized, engaging and all-encompassing. Not only do bots offer a uniquely inventive messenger experience, but have far surpassed their predecessor; Facebook apps, in both quality and substance. A bot of this caliber is far better experienced first-hand, we welcome fans and new-discoverers alike to step inside the Game of Thrones and join the fight for the Iron Throne, all from the comfort of their phone," informed the developer of the bot Aurelien Fonteneau, Group Account Director, Socialize.