If there was an award for platforms where the US Presidential Elections were discussed, the winner would be Twitter hands down, or so suggests a Meltwater analysis of all social media posts done in the Middle East & North Africa (MENA) region on the US Elections. As social media lit up with posts on the US Elections, candidates and even forecasts, Meltwater analysed the interactions throughout the last month, leading to the election day.
As per the analysis, Twitter led the conversation by a significant margin. Around 98 percent of the conversation occurred on Twitter, whereas other digital platforms saw very few or barely any interactions related to the elections.
A closer look at the user demographics indicate that majority of posters were male who made more than 78 percent posts, compared to 21.43 percent of posts by females.
Geographically, most of the posts were from KSA with more than 46 percent, followed by UAE with 32 percent.
Users from the other GCC countries were not too keen to join the conversations about the presidential race, with interactions measured at 7 percent in Kuwait and Qatar, 5 percent in Oman and only 4 percent in Bahrain.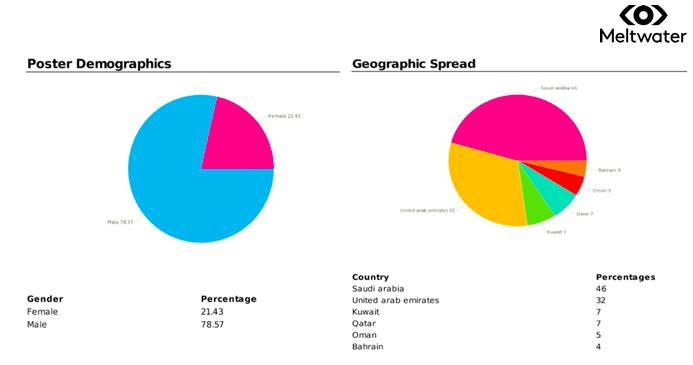 A Neutral Sentiment
Of all the posts about Hillary Clinton, 67.5 percent of the comments were neutral and 26.4 percent were of a negative sentiment, whereas with Trump, 64.4 percent of related comments were neutral and 23.3 percent were negative.
Most of those who joined the conversations about the elections in the last month were individuals, with very few government or business social media accounts posting about the event, giving a clear indication that most organizations in the region preferred to wait and see what the elections results would be, than speculate.
It is notable that the majority of posts, were neither positive nor negative with more than 77.6 percent of the posts being neutral, which demonstrates that people in the region looked at the US Elections objectively and had less sentimental preference towards any of the candidates. Only 12.5 percent of the posts were negative.
Commenting on these results, Zubair Timol, Partner & Area Director for India, Middle East & Africa, Meltwater, said, "Elections are today driven by social media. Both Clinton and Trump made it a point to interact with their followers on different channels. It was a very indecisive poll and an analysis of the sentiments do not show a strong preference for either candidate, the outcome could have gone either way. At the end, Trump won against most election poll predictions. In the years to come, social media usage will remain a decisive factor in elections."
Meltwater analysis covered users of all social media platforms, who posted about the US Elections between October 9, 2016 to November 9, 2016 in Arabic and English, in the GCC countries.