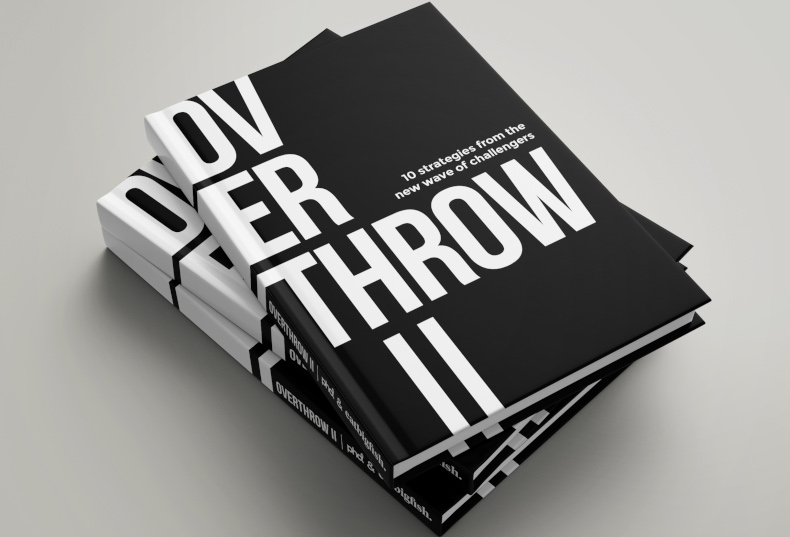 Twenty years after author Adam Morgan coined the concept of the challenger brand in Eating the Big Fish, global media network PHD has announced it will again be collaborating with the expert on the subject in a new publication, that launched during Cannes Lions.
Drawing on the insights and experiences of today's challengers disrupting the status quo, Overthrow II – 10 strategies from the new wave of challengers, identifies 10 different challenger types including: Real & Human, Feisty Underdog, Local Hero, Next Generation and Dramatic Disruptor. The book builds on the previous collaboration between PHD and eatbigfish in 2012 with Overthrow – 10 ways to tell a challenger story.
The new book carries interviews with the likes of Oatly, BrewDog, COPA90, Tony's Chocolonely, Mailchimp and Xiaomi, and looks at the strategic principles that each follows. It also explores the media behaviors they practice and draws conclusions about the marketing behaviors these challenger types share.
Common to many of these challengers today is a very simple shift in understanding what a challenger is: not a brand that challenges somebody, but a brand that challenges something; something they feel needs to change.
Financed by a new type of investor and harnessing emerging structural changes and new ways to build relationships with consumers, these new challengers have generated an enormous energy and excitement in the marketing and business community.
"Overthrow II explores what it means to be a challenger beyond the superficial 'David vs Goliath' cliché. It is a guide to helping marketers find the kind of challenger brand narrative they need to be compelling in an increasingly noisy, crowded and distracted world," said Adam Morgan, Founder and Partner of eatbigfish, and the co-author of the book.
"These challenger brands are so different in so many ways – different categories, different competitors, different brand characters, and yet they have some important things in common. These commonalities appear to be the ingredients behind challenger brand behaviors and their specific media behaviors that ultimately lead to their extraordinary growth stories," added co-author Malcolm Devoy, PHD EMEA's Chief Strategy Officer.
Overthrow II – 10 strategies from the new wave of challengers is also being produced as a limited-edition coffee table book, featuring all the content from the standard book alongside fabulous imagery, further interviews and case studies. There are new interviews from an eclectic mix of brands including DB Breweries, Universal Standard, Depop, Lemonade and Audi, as well as case studies from Monzo. MOIA, WestJet and Shake Shack.
"It's great to be partnering with Adam and the team at eatbigfish on PHD's latest publication. We believe that challenger behavior is not confined to the new or the small. Brands of all sizes – whatever their category, competition, heritage or personality – can benefit from adopting a challenger mindset to drive more ambitious growth and make the impact they desire," Philippa Brown, incoming CEO of PHD Worldwide, commented.
The book will also be discussed at BrainScape, PHD UAE's annual thought leadership conference, this coming October in Dubai. This year's edition will be its tenth and will feature international experts discussing how companies can adopt the challenger behavior.