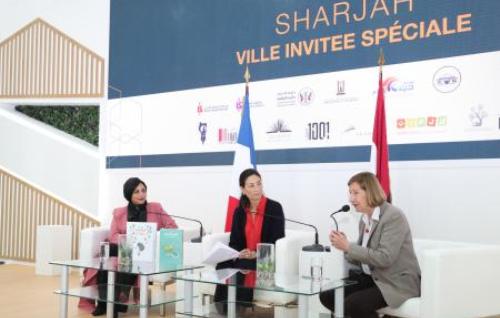 Sheikha Bodour Al Qasimi, Founder and CEO of Kalimat Group highlighted the significant role played by literature in enhancing dialogue between the world's cultures, and the role of children's books publishers in building young generations who are capable of understanding other cultures.
"Literature has the capacity to travel far and wide and helps us to explore a world outside of our own. The role of children's books publishers is to publish material that has a positive moral impact on children, helping them to understand many ethical and cultural values about life, and emphasize their role and duty towards humanity," said Ms Al Qasimi.
Ms Al Qasimi's made these observations in a panel themed 'The importance of Partnerships with Local Publishers and Their Role in Reaching Wider Audiences and Enhancing Business Opportunities' at the Paris Book Fair, which runs from 16-19 March 2018.
A large delegation from the UAE are participating in the event, celebrating the selection of Sharjah as the Special Guest City at the 38th edition of the fair.
During the panel discussion, which included Hedwige Basquet, CEO of Gallimard Jeunesse and was moderated by the journalist Olivia Snaiji, Ms Al Qasimi highlighted the strategic outcomes of Kalimat's recent collaboration with a number of foreign publishers, including France's own Gallimard Jeunnesse.
Speaking of the impact of those partnerships on the Emirati book market, she said, "The translation of our books and creation of new partnerships across the world opens up new markets and gives us access to new readers, creating opportunities for cooperation in exchanging knowledge. Ultimately, our aim is to encourage more translation and work with international partners who have the same desire and vision of working on a global scale."
She pointed out translation as one of the most effective tools to transcend language barriers, bring cultures together and access foreign societies through their literature. She explained that the role of translation becomes yet more significant with children's literature, because it not only deals with language, but it also broadens horizons and enhances the concept of dialogue and understanding.
"At Gallimard, we are publishing books for children from their birth until the age of young adults. We think it is very important to give them books that will help them taste the joy of reading, it is very important that the child read for pleasure," said Ms Basquet.
She explained that the children need to get what is the best from literature, and Gallimard's partnership with Kalimat, is a way to give the best Arabic literature. "And we feel it is very important for the children to get international cultures, because if we want the children to understand to get themselves and talk together and discover the different countries, it is important that this happens through books," she added.
Ms Al Qasimi also led discussions on logistics and ensuring maximum outreach in terms of distribution and promotion, pointing out the importance of marketing different titles with local markets to allow readers of different cultures to understand the concepts behind the literature. This also involved the implications, challenges and possible solutions to guidelines on publishing rights.
"Our readers are more global now, so it is easier to provide them with culturally diverse content, because they can easily put it into context. If publishers around the world adopt this trend, we can start tackling cultural prejudices and stereotypes on a larger scale and from a younger age," she said.