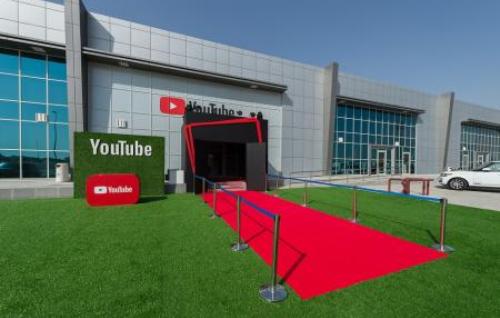 In a move that reflects Dubai's rising status as the hub of the region's new media industry, YouTube is opening Middle East and North Africa's (MENA) first YouTube Space at Dubai Studio City, a facility dedicated to supporting the growing creator community in the MENA region by giving access to a state of the art production space.
The Space, 10th in the world, is dedicated to YouTube content creators who will have free access to audio, visual and editing equipment in addition to training programs, workshops and courses. The other cities hosting YouTube Space are London, Sao Paulo, Tokyo, Mumbai, Paris, Berlin, New York, Los Angeles, and Toronto.
More than 440,000 creators have visited nine YouTube Spaces around the world since the Spaces program first launched in 2012.
"Creators are the heartbeat of YouTube and supporting them has long been one of our most important priorities. We're proud of the meteoric rise of Arabic content on YouTube, which has been spearheaded by a diverse and growing community of creators from different parts of the Arab world," said David Ripert, Head of YouTube Spaces in Europe, Middle East, and Africa.
He explained that YouTube Space in Dubai will be a hub where creators don't just continue to make videos but to also experiment with new formats and ideas made possible by the Space's production facilities. "As a platform, YouTube provides a blank canvas for creative expression and the Space will be one of the tools creators use to tell their own stories," he said.
"We are very pleased to be selected as a hub for the region's first YouTube space. In today's world, content creation is very valuable and depicts meaningful content to the public. With the launch of the YouTube space, Dubai Studio City aims to cultivate a collaborative environment where like-minded people can create innovative content, which can cross borders and impact a wide and diverse audience," said Majed Al Suwaidi, Managing Director of Dubai Studio City.
The Spaces program is designed to support creators of all levels. Channels with 1,000 subscribers or more will have access to the workshops and events held at the Space. While creators with more than 10,000 subscribers will be able to access the production facilities which include two sound-proof studios, editing equipment, state of the art cameras and microphones, as well as a control room.
Workshops will be geared to the different needs of creators with themes and topics ranging from creative development and production, to business development and how to engage with advertisers. All creators will be required to sit through day-long workshop before accessing any of the Space's services.
"Over the years, we've witnessed a number of brave and creative people in the region build massive followings by turning the camera on themselves and sharing their voice with the world. In fact, five years ago when I visited, you could count the number of creators with a million subscribers on one hand. Today, the region has over 200 channels with over a million subscribers," added Robert Kyncl, Chief Business Officer of YouTube.
The Space comes at an important time for YouTube in MENA as the Arab world experiences an increase in the number of channels uploading from MENA countries by 160 percent in the past three years. Today, there are more than 200 channels with over one million subscribers in MENA, and over 30k channels with more than 10K subscribers.
Production slots will be limited in the first two months after the launch until after Ramadan when eligible creators will be able to book their production sessions through the online booking form.