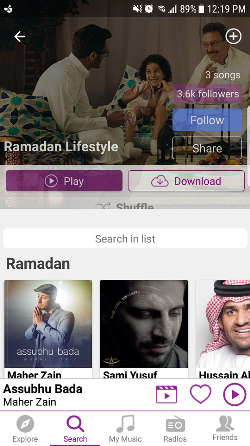 Music streaming company, Anghami, is gearing up for Ramadan, offering its 40 million listeners additional content tailored for the Holy Month. This includes religious and spiritual songs and Anasheeds by Muslim singers, Quranic recitals and Duaa' by Sheikhs, themed songs from Ramadan television blockbusters, cooking and workout content.
To respond to the needs of its listeners, Anghami has curated additional content for users who seek an alternative audio consumption. Global and regional singers of the spiritual and religious genre, such as Sami Yousif, Maher Zain and Hussein Al Jasmi feature their Anasheed songs on Anghami this Ramadan. Also, through its partnership with MBC, Anghami will be hosting the soundtracks of the channel's television series, featuring music industry stars.
A 2016 Anghami research suggests that the GCC and Egypt recorded 110 percent increase in content consumption on specific topics during Ramadan including religious, workout and cooking content. While 50 percent of the consumption on Anghami remains from the mainstream libraries, the remaining and growing 50 percent is for Ramadan content and customized playlists for the Holy Month. Saudi Arabia, UAE, Egypt and Kuwait take up to 70 percent share of traffic in Ramadan.
"Anghami's triple digit year-on-year growth has attracted an audience of various tastes. We have seen 63 percent rise in religious content streaming in the GCC and Egypt. There is also 123 percent growth in workout content streaming and 110 percent upsurge in cooking content. Brands are working to connect with their consumers during this period, celebrating love, family and many of the other Arab values that are underscored during the Holy Month," said Elie Abou Saleh, the company's Commercial Director.