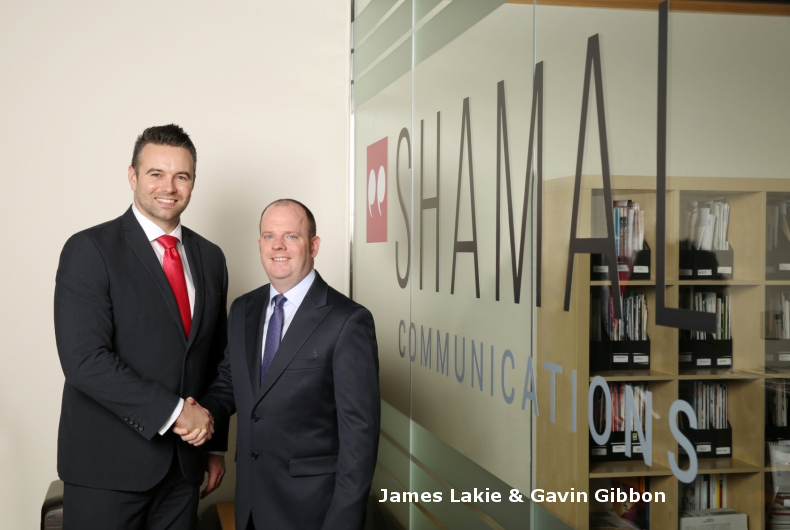 Dubai-based B2B PR agency Shamal Communications has strengthened its leadership team. James Lakie, who has been with the company for three years, has been promoted to General Manager. And Gavin Gibbon has been brought on board as Senior Account Manager. This coincides with the completion of Shamal's rebrand and the launch of new digital and broadcast divisions.
Mr Lakie began his professional career in 2002 with Visit Scotland, the Scottish National Tourist Board. During his tenure, he worked on both consumer and corporate accounts, bringing a wealth of experience to Dubai and managing accounts across numerous industry verticals.
"I'm looking forward to the added responsibility, that this position carries, especially with the launch of our two new divisions. Shamal has built a sterling reputation in the market over the last 12 years and continues to produce quality results for clients including Arabian Travel Market, Seven Tides International and Al Hamra Real Estate Development and above all else provides an outstanding return on investment," Mr Lakie said.
A qualified journalist with 17 years' experience, Mr Gibbon has been in Dubai for three years and previously worked for ITP Publishing and OSN. He joins from real estate company Core Savills where he was PR & Communications Manager. "Having worked with Shamal during my time at ITP, my decision to come on board was an easy one. The agency has an incredibly strong client base, with a passion to serve them well and foster good relationships with the media. Their ambitions also match my own and I am looking forward to the challenges and opportunities that lie ahead," he said.
Established in 2004, Shamal Communications was founded by Steven Jones and Nathalie Visele, marketing and PR professionals each with over 20 years' Middle East experience. The agency has completed a comprehensive rebrand, creating a structure which now accommodates new standalone divisions Shamal Public Relations, Shamal Digital and Shamal Broadcast, enabling clients to heighten their visibility across a broader range of platforms, throughout the increasingly competitive markets in the Middle East and Asia.
Speaking on the new appointments, Steven Jones, Managing Director, Shamal Communications said, "James has progressed steadily since joining the team. With the dedication, commitment and level of professionalism and expertise he has shown, this was a natural step for him. Gavin joins us at a strategic point in the company's development. With our experience in real estate, Gavin's knowledge of the UAE's property market will be invaluable for our real estate clients particularly as the UAE moves closer to Expo 2020, given the huge amount of development planned in the hospitality and leisure sectors."
"The communications industry has been completely transformed over the past decade and continues to move at an extraordinary pace. It was only 2002 when Linkedin was formed, followed by Facebook (2004), YouTube (2005), Twitter (2006), Instagram (2010) and Snapchat (2012). Companies today have never had such a variety of communication channels open to them to connect with their target audience. Therefore, we decided to add these new dedicated divisions, to keep up with market demand and ensure we are always providing the latest and most creative strategies for our clients," added Nathalie Visele, Director at Shamal.
Shamal Communications is also a founding member of Worldwise PR Affiliates, a strategic alliance of well-established, independent public relations firms in key locations around the world, including Miami, New York, London, Sao Paulo, Mexico City, Delhi, Milan, Munich, Paris, Moscow, Toronto, Hong Kong, mainland China, Jakarta, Singapore and Buenos Aires.