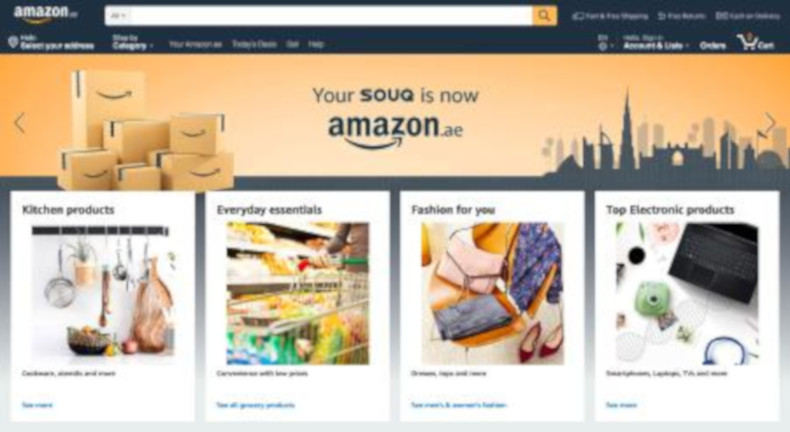 Amazon and Souq have launch Amazon.ae, a new local shopping experience for customers in the UAE. Amazon.ae features over 30 million products from local and international businesses, including products previously available on Souq and five million products from Amazon US.
"Today marks a proud day for Souq and Amazon, a day that we have been working towards since the two companies came together in 2017. Amazon.ae brings together Souq's local know-how and Amazon's global expertise, something we believe will be of significant benefit to UAE customers," said Ronaldo Mouchawar, Cofounder of Souq, Vice President of Amazon MENA.
"Our combined team in the region has grown to over 3,600 employees, and each and every one of us is thrilled to invite UAE customers to join us on this journey, where we will continue to grow our product range, ensure great prices, and provide a convenient and safe shopping experience," he added.
Customers can shop on Amazon.ae by using the Amazon app or by visiting the new website. Both the app and the website will offer a fast and rich browsing experience, accurate search results, trusted product reviews, personalized recommendations and simple order management.
Completely localized for a seamless experience, shoppers can search for their products and pay in AED using local and international credit cards or cash on delivery (COD). A first for Amazon, Arabic language has been introduced to both the mobile app and the website to cater to customers who prefer shopping in Arabic.
Customers shopping on Amazon.ae will continue to access free next day delivery on orders above AED 100 as well as paid same day delivery to select areas in the UAE. Amazon's global expertise in logistics will provide accurate delivery and shipment tracking.
A New Beginning
The businesses who were selling on Souq are now selling on Amazon.ae. UAE businesses of all sizes can sell their products on Amazon.ae, with access to easy listing tools, safe payment processing, promotional features to help them get discovered by customers, and simplified logistics solutions with Fulfillment by Amazon (FBA). All aspiring entrepreneurs, regardless of their experience or business know-how, have access to the Amazon resources, products and tools that they need to grow a business.
Mustafa Abbas, an Emirati entrepreneur, has been selling high-end consumer electronics products on Souq since 2018. He said, "Selling on Souq has been very fruitful, as it has allowed us to grow our online business meaningfully and reach new customers without increasing fixed costs. It was a rewarding experience working with Souq, especially with all the benefits we received as sellers, and we look forward to continuing the collaboration with Amazon.ae to grow the business even further."
"We are delighted to welcome UAE customers to Amazon.ae. Today is day one, and we will keep innovating in ways that are meaningful to customers, continuously striving to meet their wonderfully high expectations," Mr Mouchawar added.