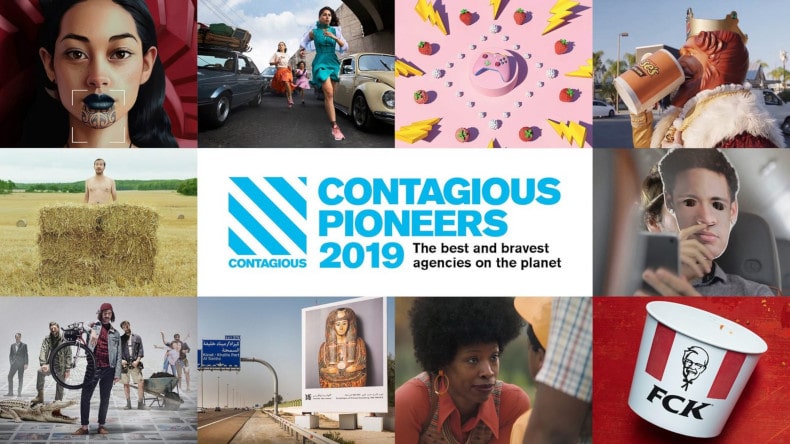 Contagious has released its 2019 Contagious Pioneers, the global ranking of the agencies that aims to set the standard for creativity, innovation and excellence in marketing.
The only agency region from the region to have made it to the top 10 in list this year is TBWA\Raad Dubai. This comes as no surprise, given TBWA\Raad was also the single most awarded agency, across regional and global awards, in 2018.
In order, the 2019 winners include:
#1 Colenso BBDO, Auckland
#2 McCann, London
#3 AlmapBBDO, São Paulo
#4 BBDO, New York
#5 CHE Proximity, Australia
#6 Wieden+Kennedy, Portland
#7 Mother, London
#8 TBWA\Raad Dubai & BBH, London
#10 David, Miami
To arrive at the list, Contagious evaluated agencies on the quantity of their work featured on Contagious I/O throughout 2018. As per Contagious, only campaigns that demonstrate the highest levels of creativity and strategic thinking are chosen for inclusion on I/O. The final ranking also considers factors, such as the ratio of campaigns created to the number of different brands they were created for.
"There is no shortcut to becoming a Contagious Pioneer agency other than consistently producing exceptional work for your clients. For an agency to have work featured on Contagious I/O is already a brilliant achievement. To be producing work that is regularly featured on the platform is truly extraordinary and deserves credit and recognition," said Alex Jenkins, Editorial Director, Contagious.
"The criteria behind the Contagious Pioneers rankings are deliberately democratic. No entry fees, no spray and pray. Since 2004, the Contagious editorial team has built a fiercely protected reputation for identifying the world's most innovative, disruptive and agenda-setting ideas. For an agency to earn Pioneer status, it therefore takes bravery, ingenuity and consistent originality across a range of clients and categories. It's a phenomenal achievement," explained Paul Kemp-Robertson, Founder, Contagious.