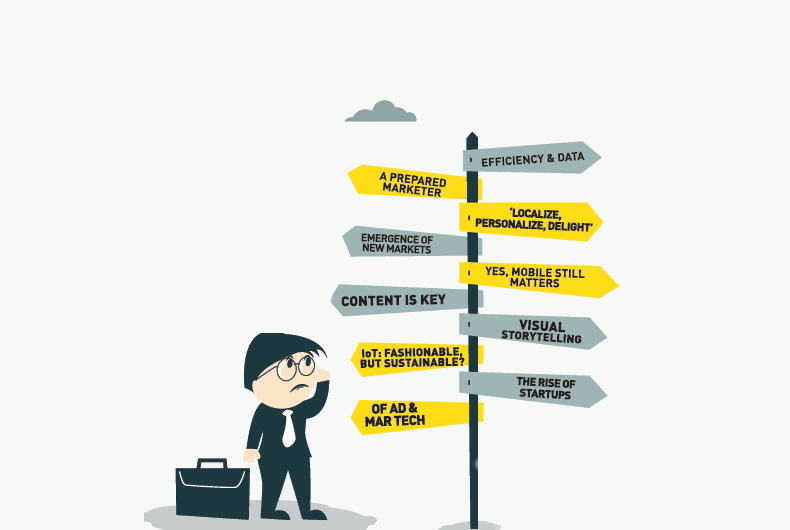 The Middle East and North Africa (MENA) region ended 2015 on what some may call neutral, and others slightly below expectations, growth rate. But not everyone is complaining. The year brought good news to some of the players in the region, reiterating that even tough times in MENA can be dealt with the right approach and strategy.
"It was an outstanding year for us, more so because it was difficult. We excelled despite the challenges that the region faced. For all purposes, 2015 has been the best year for Starcom MediaVest Group MENA. We had a great run in pitches, in new business wins including Jet Airways, Etihad, du, Visa, Citibank, and the fact that we did not lose any business," explains VivaKi & Starcom Mediavest Group's MENA Chairman, Alex Saber.
The advertising and media industry has had its share of success stories that would compel global players to continue looking at MENA in a positive light. Even as 2016 is predicted to be a tougher year, it holds new opportunities for the industry. Mr Saber asserts that there is light at the end of the tunnel, and the best approach is to stay the course. He says, "The year will be testing but the region has dealt with this in the past. When things go south, you have to keep standing because it changes in no time and you have to be in your best form for the bounce back."
As the industry keeps its eyes and ears trained on areas that will continue to make a mark on consumers, here are 10 trends that will characterize 2016.
1. A Prepared Marketer
Marketing will change this year, again. Among other reasons, the primary reason for this is because it is expected to. Consumers are evolving, media landscape is shifting and the talk of a downturn does not make it any easier for the marketer. The first reaction would be to say that marketers will be more cautious but the 2008 experience has made them more 'prepared' for 2016. Instead of cutting down spends, marketers are seeking more bang for the buck. This may mean that marketers will tend to take lesser risks but if the 2008 experience is anything to go by, now is the time to invest in 'brand'.
Emphasizing this, Vikram Krishna, Head of Group Marketing & Customer Experience, Emirates NBD says, "There will be strong focus on efficiency and getting more for less. At a time when there are cost challenges and revenue is harder to come by, marketers will have to be more innovative." Among the various steps that marketers such as him are taking for this, the first is asking more from both media and messaging. Digital media, such as social, has proven that it can connect and engage consumers but marketers are exploring on whether it can be monetized. "We have a strong following on social platforms, and with initiatives such as Twitter Pay, social has already become more than just media to a business generating platform," Mr Krishna says.
In messaging, brands need to show their human side to consumers. News of slow economy and budget deficits will impact all, injecting skepticism in consumer mindset. "Brands should become community oriented. Companies that look to help people will win hearts and minds, and get more respect," advises Vikram Krishna.
2. Efficiency & Data
Data will have a primary role to play in the year ahead. The need for precision targeting, relevant messaging and controlling wastage in advertising will be more pronounced in a year when budgets are unlikely to increase. The effectiveness of each campaign will count more. Whether it is online, onscreen or reaching through traditional and new media platforms, the efficacy of an ad campaign will depend on reliable data and insights.
Mr Krishna adds here that simplicity will matter too. "As brand owners, we have to become more open, transparent and simple. In our case specifically, being a financial service, extra efforts have to be made so that customers find it easier to connect with us," he says.
3. Localize, Personalize, Delight
More than ever, consumers have to be a brand's core focus. Adding relevant touch-points, understanding changing consumer behavior and preferences has become imperative. Data has a role to play again to give granular information that brands can use to personalize conversations with consumers.
A strong social connect and personal bond with regional consumers can open up newer consumer segments for brands. Localizing an offer or one-on-one marketing has been the mantra for a while, but it is only now that technology and data analytics for the required framework to achieve this is available to brands.
4. Emergence Of New Markets
The year will see slowdown in some markets but it will also see the opening up of newer growth markets. With a population of 80 million, and economic sanctions being lifted, Iran is an excellent example. While some feel that the untapped potential of Iran can offset the expected slowdown, logic states that it may not all happen in 2016 itself. "Iran will bring immense potential but the question is when. There are many logistical barriers that are still to be dealt with. It would be wise to set expectations right. Even though Iran can add momentum to the region in terms of business and investment, we do not expect things to change much in the next six to eight months," cautions Mr Saber.
5. Content Is Key
If there was another overused word after efficiency for the industry at present, it is content. In the year ahead, getting content right will hold much significance in the MENA region. As attracting and retaining consumers becomes more challenging, marketers have been switching budgets from the so-called 'interruption' media to exploring content marketing through owned, earned or paid media. "It is really important for brands to create right content and distribute it correctly. If 2015 was about influencers and bloggers, 2016 will be about 360-degree integration and making sure that we are linking different platforms, making the same piece of content work harder," says Yara Abdullah, Branded Content Unit Manager, MBC.
One may question whether such marketing forms will be impacted in a 'playing it safe' environment. "Economy, politics and current affairs are changing in this part of the world, and they all impact brand and media alike. But the Arab world has become immune to turmoil. We are working around them with resilience," replies Mr Abdullah.
6. Yes, Mobile Still Matters
For the last three years, brands have turned every stone to unlock the power of mobile in marketing. Some have met with more success than others but most continue to include mobile in their plans. According to eMarketer, the Middle East's mobile internet ad spends share is forecast to hit 8.9 percent of the total global spends by 2017. This is still very low even though consumers spend more time consuming media on mobile phones than any other device.
In the year ahead, mobile will continue to be a huge opportunity for MENA marketers. Mobile has led to further growth for media, specifically social media platforms. The work done by some of these players to connect brands to all markets, including the feature phone markets, in the region has augured positive results. And the Middle East continues to lead mobile and video trends in the region, implying that this is one area marketers cannot cut down, or stagnate, their budgets in.
7. Visual Storytelling
Linked to the growth of mobile and social media platforms, is the rise of online videos. There will come a time when consumers will buy a brand recommended by a YouTube personality more than by a movie or TV star. Visual storytelling implies using engaging content including videos instead of a conventional banner or display ad to connect with consumers. Some brands are even adding ecommerce options around this to enable sales. The era of user-generated visual storytelling is here as well. As the 'Snapchat generation' comes of age, brands are seeing visual story telling in an all-new light. "We are seeing a definite explosion of video consumption. Our YouTube channel recorded over 10 million views last year. Building on that, we are putting out videos on our services and are using this platform to be more informative, interactive and engaging to our consumers," informs Mr Vikram Krishna.
8. IoT: Fashionable, but Sustainable?
Internet of Things (IoT) is yet another subject that brands are working to better understand. Brands want to embrace technology and innovation in unprecedented ways but the question remains on whether they are doing so relevantly, and in a manner that will yield long term results. From connected cars and refrigerators to wearable technology, some of the most prominent brands have invested much in this segment already. "Targeting younger generation that is interested in the technology sector is a trend," remarks Mohammed Abdulmagied Seddiqi, VP of Sales & Retail, Ahmed Seddiqi & Sons that is competing with global players in smartwatches.
"Several brands in the watch industry are creating smart watches using traditional style or iconic models such as Bulgari, Frederique Constant, Tag Heuer and many others. As we see high-end brands embracing the wearable tech trend, there will always be buzz around it. However, when we talk about wearable tech specifically, it has a shorter lifespan. This leaves a question on the future of the industry, especially in a difficult time for the watch industry as a whole," Mr Seddiqi points out voicing the concern for some players in the segment.
9. Of Ad & Mar Tech
Like most markets, MENA also is working towards decoding advertising technology, and ably integrating it into marketing solutions. As programmatic and data gain attention in the region, and play a key role in disrupting the media landscape, they are also faced with various challenges across the ecosystem.
The shift from don't-get-inventory-in-this-space to demand for programmatic has seen a steep rise, specifically so last year. The region still needs answers in video programmatic or growing remarketing beyond just ecommerce players. The mobile internet growth in MENA is posing the dual question of how to crack technology led solutions for marketing, and also who are best placed to do this. Mr Alex Saber states that a major breakthrough in 2015 was programmatic, adding, "Last few years were the years of digital. This was the year of programmatic. It was a slow start. Publishers were really not keen to be on programmatic platforms but things have evolved. 2016 will be even more critical for programmatic and automation."
10. The Rise Of Startups
The mega corporations of today were startups of yesterday. And a very important difference between any slowdown seen in the past and now is the rise of the entrepreneur spirit and the startup culture in the region. Early successes have become large advertisers in some markets bringing in advertising spends that were hitherto missing from the industry. Over the last couple of years, MENA has also emerged as one of the largest startup ecosystems, and in 2016, the startup flavor will continue to attract advertising professionals, as they study an emerging new breed of clients.
In all, despite the tough forecast, 2016 will be a year of opportunities for those who want to seize it, and even if MENA markets do not grow, staying strong in 2016 will bring benefits in the years ahead.