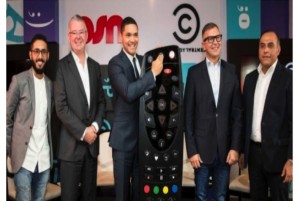 Viacom International Media Network launched Comedy Central in the Middle East on one of the region's leading pay-TV player, OSN. Comedy Central HD will be the third brand for Viacom in the region, complementing the existing presence of MTV and Nickelodeon/NickJr.
The official launch of Comedy Central HD took place earlier this week by Trevor Noah, the host of The Daily Show and one of Saudi Arabia's leading stand-up comedians, Fahad Albutairi.
"The fact that every single show on Comedy Central HD will have Arabic subtitles is hugely important to us, it widens our reach and ensures that our subscribers can fully engage in the quality programming we provide. Having Trevor Noah and Fahad Albutairi come to Dubai to launch Comedy Central HD marks our commitment to bringing the best talents closer to our viewers," said David Butorac, CEO, OSN.