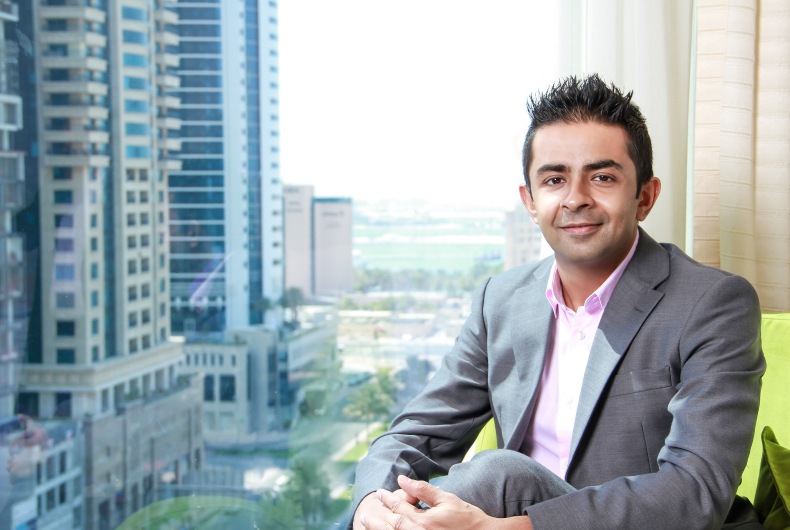 Responding to the growing digital, technological and economical changes, Viacom18's mantra is to evolve from being a TV broadcaster to a content creator, curator and distributor. It is among one of the prominent South Asian entertainment companies in the Middle East & Africa (MEA) region that has channels such as COLORS, Rishtey Asia and MTV India. But in 2017, the key objective for the company is to make its growth strategies reflect the broad change in philosophy reflect in its for the region. The year ahead will see Viacom18 increase the number of channels, content localization and regionalization in MEA. It will also entail enhanced focus in Live events and digital.
In this interview with Arabian Marketer, Sachin Gokhale, Senior VP and Business Head – MEA & APAC & Live Events, Viacom18/ IndiaCast Media Distribution, details some of the company's growth plans, how Viacom18 is approaching the business in the region, and what the MEA experience has been. Excerpts:
The year 2017 is expected to be very tough. How has your experience been?
It has been a challenging year but it brought forward several new, and at times contradictory, trends. On the one hand, there is a clear softening in advertising budgets among traditional advertisers. Marketers are questioning metrics of reach, viewership and effectiveness. On the other hand, there has been a marked focus towards ROI driven, tactical marketing campaigns. Digital, social media and influencers are getting more spends, efforts and resources.
TV broadcasters are becoming more open to innovations and going beyond the traditional 30-seconds ad spots and program sponsorships to content integrations, events, branded content, 360-degree marketing solutions and so on. The year will create several new pockets of opportunities for us to monetize.
What are some of the new initiatives that we can expect from IndiaCast in the year?
Our portfolio is extremely popular with South Asian audiences in the region. Our audience loves our channels not only for the unique Indian content we offer with big ticket formats such as Fear Factor, Big Brother, Got Talent, Dancing with the Stars, 24, IIFA, Roadies, Splitsvilla, Top Model, etc. but also for our local content which showcase people, stories and experiences unique to the region.
This year, we will grow our channel reach among MEA households and add a few new brands to our 21-channels strong portfolio in the region. We will also be driving more local programming in the reality and fiction space. We will be growing our Live Events vertical with a number of new and innovative music and Bollywood events which will serve as unique brand ambassadors for the great variety of content available on our TV channels and also will simultaneously entertain and engage our viewers further.
What are some of the immediate changes that we will see in line with this?
Our flagship channel COLORS has recently extended its primetime. The band now starts from early evening at 5 PM. Two new shows 'Bhaag Bakool Bhaag' and 'Savitri Devi College and Hospital' have been launched to increase our consumer's daily entertainment quotient.
We are set for the second season of our locally produced show 'Salaam Namaste UAE'. This TV show premiered last year and received high praise for its concept which drew inspiration from ordinary UAE residents who have been visionaries in their chosen fields. With 2017 being 'The Year of Giving', this season's 30-minute non-fiction shows will aim at 'giving' through the concept, undertaking initiatives for the betterment of those in need. Keeping this essence alive, this season will not only highlight individuals but also brands and corporates in the UAE that are actively involved in "giving back to society".
Any new markets that you may enter this year?
IndiaCast currently has a viewership of two million plus, in more than 50 countries in MEA. Our research is constantly tuned to identifying and studying content need gaps among the South Asian diaspora in these markets and working with our affiliate Pay TV partners on closing those gaps through existing channels or by creating specially curated 'unique to region' channel, like Rishtey Asia. We have recently added Rishtey Asia on OSN through their Pehla packages. We are also looking at new opportunities in Nigeria, East Africa, Southern Africa and Indian Ocean as well.
Some of your immediate competition has been in the region for much longer. How do you ensure your place in the media plans?
Since our launch in the region around seven years ago, we have received immense support and encouragement from the advertiser and media agency community. We managed to rapidly create a unique position for our brand, and the reasons are manifold. The clutter breaking tentpole content on our channels and the disruptive marketing activities across traditional and digital media has played a significant role. Our investments in localizing our offerings, and the fact that we have never seen ourselves as just an Indian broadcaster but have genuinely tried to be relevant and engaging to all segments of the South Asian diaspora, have helped.
Our focus on developing non-traditional advertiser categories, efforts in creating 360- sponsorship solutions, innovative rate cards and pricing and packaging structures aimed to help maximize ROI have all contributed to our ad sales.
Is there any difference in terms of content presentation from the original feed in India to the feeds in the region to adapt to local taste and preferences?
Our content strategy for our international channels is three pronged. First, give our audiences all the good content that's created for the channel in India, at a day and time most convenient to them, with English subtitles. Second, create access to unique alternate shows that we may not air in India but which resonate with our viewer's lifestyles, exposure and interests here. We specifically acquire shows for our audiences in MEA across genres like cookery, travel, lifestyle, youth, kids animated shows, Pakistani and Turkish dramas, period dramas from India etc. Third, create locally produced content.
What is the way forward for your OTT strategy in the Middle East?
The biggest trends shaping content consumption worldwide are that of personalization and immediacy. While some of these are more prevalent among Millennials, these are the broad strokes changing the future of content consumption and by extension, content creation and presentation. We believe that Linear TV will continue to be mainstay for family entertainment but significant growth in individual and multiscreen digital content consumption will happen too. We have therefore made the shift from thinking of ourselves as TV broadcasters to being creators, curators and distributors of content.
A play in digital content is therefore a key part of our growth strategy moving forward. Voot is the most ambitious amplification of that strategy for us moving forward. Voot is our video-on-demand OTT service, available via mobile and website, currently accessible in India. While the service is currently ad-supported in India, for MEA, we are planning to launch it as a pay SVOD service in partnership with the leading telcos and pay TV platforms in the region. We are currently firming up our launch plans.