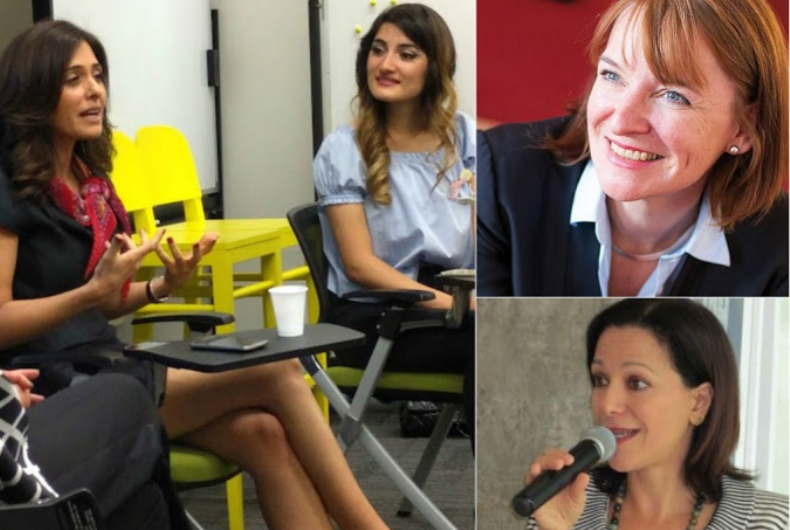 Internet and technology has empowered women across the globe to contribute to the next generation of digital leaders. A recent initiative Women@Google brought together a few of these disruptors. This is the first edition of the event in the Middle East & North Africa (MENA) region.
Edina Heal, Country Manager at Google, who also leads Women@Google in Europe Middle East and Africa (EMEA), stressed that a diverse workplace is as important for men as it is for women. "It is important for the young YouTube creators to set an example, so that younger generations can grow up seeing and believing in gender equality," she said.
Highlighting what happens when you bring together and an unsatisfied parent and an entrepreneur, Mona Ataya, CEO of Mumzworld.com, spoke of her journey that took her from a comfortable office outside of Zurich, overlooking the Alps, to co-founding one of Middle East's most successful job sites. Ms Ataya founded Mumzworld, which was born of out of her frustration with what she said was a shortage of quality products for her three kids. "As a frustrated consumer I wrote a business plan, and as an entrepreneur, I decided that there is a great chance out there," she said.
Also present amongst the panelist was Syrian YouTuber Hayla Ghazal and Head of Productions at the Middle East Broadcasting Corporation (MBC) Samar Akrouk.
Appreciating the initiative, Ms Akrouk said, "Sharing experiences at forums like these is very important. It is a great source of mentoring for women and even teaches me sometimes to get out of my studio and office and be more engaged."
Women@Google is an employee resource group comprising 4,000+ female Googlers committed to providing networking and mentoring opportunities, professional development, and a sense of community to Googler women across 27 countries.
"Through such forums, we are trying to showcase power of women and what they are able to do in society. Google being co-diversity, we are trying to accomplish the same here in the region. Many of the women present are familiar with UAE and we are lucky as the region it so diverse and helps all of us to move forward," said Diana Baddar, Head, YouTube Partnerships MENA while speaking to Arabian Marketer.
Going forward Google@Women will aim to engage women who are wary of technology to help them get past it. It also plans to visit schools to talk to female students to discuss what careers they could take.