The influence of social media platforms in the Middle East is growing every day. Not only are we seeing global and local media outlets understand ways in which Middle East rulers and governing bodies are using social media platforms, but we are also seeing people in these countries follow their rulers, royal families and other government and business authorities on social media platforms, creating a direct link between the rulers and the masses – a development that is transforming much in the Middle East.
The second Arab Social Media Influencers Summit ended in Dubai last week. The two-day summit held under the patronage of HH Sheikh Mohammad Bin Rashid Al Maktoum, Vice-President & Prime Minister of the UAE, and ruler of Dubai awarded Arab social media influencers for second year in a row signifying how important social media is becoming for development of communities. The ruler issued directives to launch the Arab Social Media Influencers Club, a new initiative that seeks to enhance the role and contributions of social media influencers in the development and progress of the Arab society.
Earlier this year, the participation of tens of thousands of young Saudis in a social media debate over plans to reform the kingdom's oil-reliant economy marked a shift in how Riyadh's conservative rulers are choosing to interact with their citizens using social media platforms. Nearly 190,000 Twitter users in Saudi Arabia actively took part in the debate over Vision 2030; generating more than 860,000 messages according to France-based social media monitor Semiocast. This meant the discussion reached 46 percent of the 7.4 million active Twitter users in the kingdom, Semiocast said, describing this level of outreach in a state-sponsored debate as exceptional.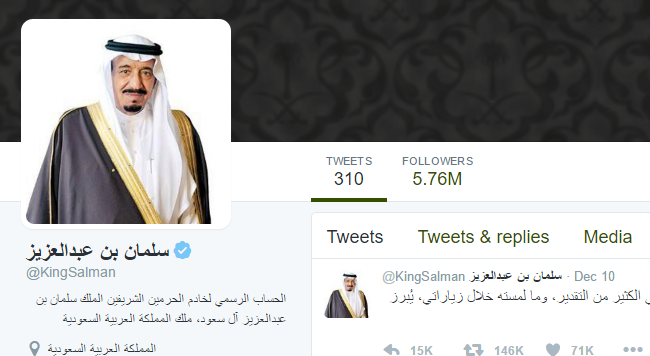 Internet penetration and the power of social media remained under estimated and out of the radar for most Arab rulers, until the "Arab Spring" that started from Tunisia and spread to parts of North Africa and the Middle East. Social media platforms were used during each protest and demonstration, mostly by Arab youth, to make their voices heard. While the region still faces the consequences of that movement, the silver lining has been how Arab rulers have embraced social media over the years since then to connect with their subjects in positive ways.
According to the Dubai School of Government's recent Arab Social Media Report, the Arab region has close to 2.1 million active Twitter users tweeting almost 4,000 tweets a minute. The top five Arab countries in terms of Twitter users are: Egypt, Saudi Arabia, Kuwait, UAE and Lebanon. The youth take the lead here with 93 percent of 18 to 24 year olds being online. About eight in 10 national internet users in the region use Facebook and WhatsApp followed by Instagram and Snapchat.
Rulers in the region are advocating governance through social media terming that "the platform was not always an accurate barometer of public opinion, but that it could help track trends." This is one reason why many senior and young leaders are taking to various social media platforms to remove barriers and make direct connect with citizens.
While Saudi Arabia's dynastic rulers have been conservative about going on social media in the past, @KingSalman of Saudi Arabia propagates a new policy of a focused development reaching out to the young Saudi population through social media. With 5.74 million followers on Twitter, the video of the King doing the Ardha dance in Qatar recently went viral on Facebook, Twitter and other social media outlets in a matter of minutes reiterating how people are following Middle East rulers.
Vice-President & Prime Minister of the UAE @HHShkMohd has 7.19 million followers on Twitter, and is the fourth most followed leader in the world.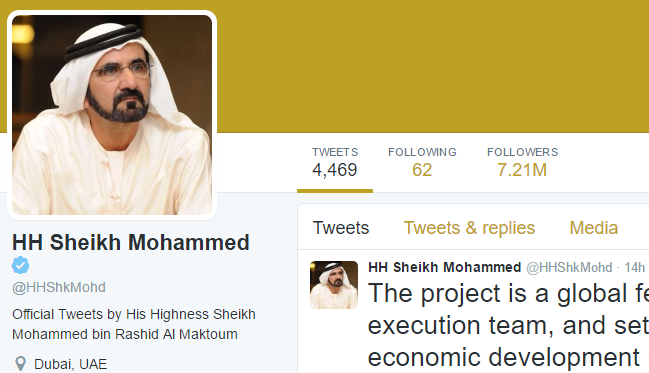 The other royals of Middle East who are active on social media include Sheikh Abdullah bin Zayed bin Sultan Al Nahyan. @ABZayed is the Minister of Foreign Affairs and International Cooperation of the United Arab Emirates and has 3.62 million followers. The popular @Alwaleed_Talal who is a Saudi business magnate, investor, and philanthropist and is a member of the Saudi royal family has 5.44 million followers on Twitter.
Besides them too, many rulers and royals in the Middle East are turning to social media to create new dimensions for the unprecedented penetration of social media platforms and create positive change through these platforms.