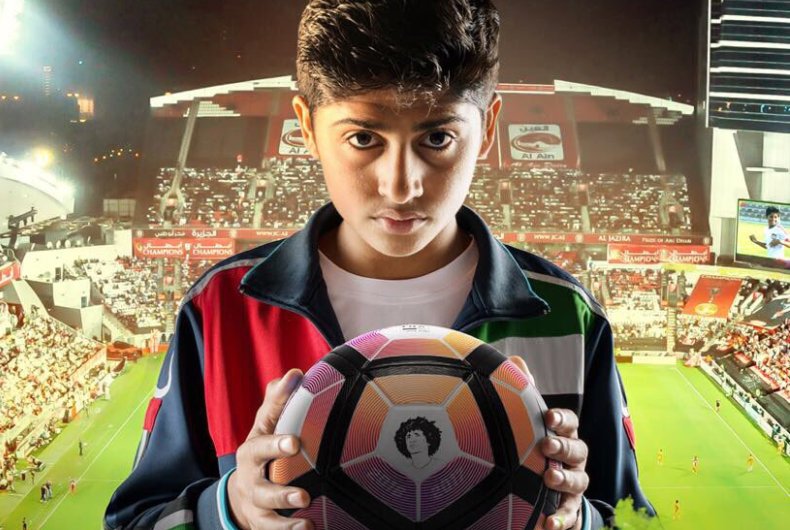 Abu Dhabi's media hub twofour54 and Abu Dhabi Film Commission have partnered on Emirati film 'Fan of Amoory', which is due to hit the big screen next month. 'Fan of Amoory', which is produced by Cinema Vision Films, a partner at twofour54 in Abu Dhabi, will be released across UAE theatres on February 8, 2018.
The film tells the story of a young boy who is a big fan of UAE football favorite Omar Abdulrahman, widely known as Amoory. The production follows the child as he overcomes challenges to realize his dream of becoming a professional football player.
"We are delighted to be supporting Emirati talent on a project that will be of great interest to everyone in the UAE. The creation of Arabic content is one of our top priorities at twofour54 as we strive to create a thriving and vibrant media industry in Abu Dhabi. This is an exciting project and we wish Cinema Vision Films success both with 'Fan of Amoory' and all its future productions," commented Maryam Eid AlMheiri, CEO, Media Zone Authority Abu Dhabi and twofour54.
Directed and produced by Amer Salmeen Al Murry, the film features many Emirati cast members including Mansoor Al Feeli, Abdullah Bin Haydar, Abd Al Rahman Al Mullah, Jomaa Al Zaabi, Matar Al Zaabi, Mayed Al Bulooshi, Sultan Khalid and Saif Ahmed.
Filmed in 2017 in Abu Dhabi, 'Fan of Amoory' was shot with the help of twofour54's film & TV services division, which provided both production and post production services at twofour54's post production facility. The film also benefited from Abu Dhabi Film Commission's 30 percent cash-back rebate on film productions in the Emirate, an incentive to support content production in the UAE.
"We are grateful for the generous support received from ADFC and twofour54, who together made the process of filming 'Fan of Amoory' in Abu Dhabi as seamless as possible. The media industry and filmmaking have always been a passion of ours at Cinema Vision and seeing this project come to life is very gratifying. Moreover, our presence at the twofour54 campus has been particularly rewarding," said producer and director Amer Salmeen Al Murry.
'Fan of Amoory' sheds light on the challenges and obstacles facing junior team players on their journey to professionalism.