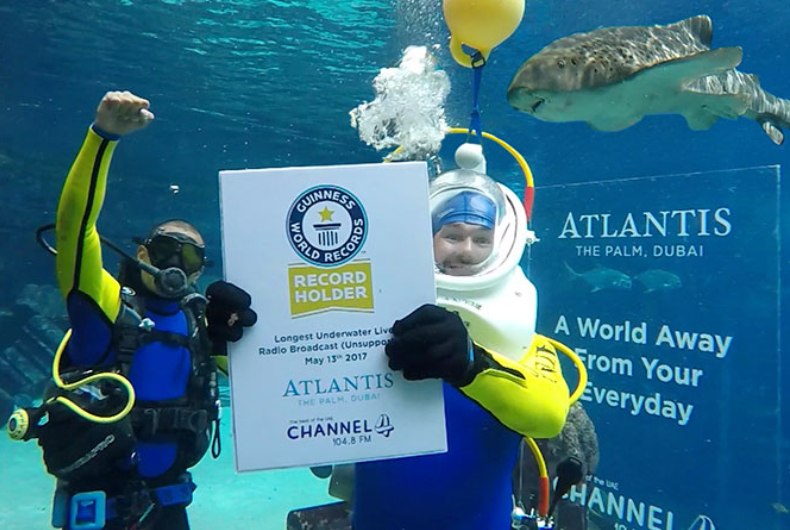 Very recently Atlantis, The Palm had undertaken a marketing exercise to spread the word around its positioning 'A World Away From Your Everyday' in an experiential campaign focused on the UK. The campaign, conceptualized and executed by FP7, had also garnered Atlantis significant PR.
Another similar attempt has come from the luxury resort property with radio in the mix this time. On May 13, 104.8 Channel 4 radio host Stu Tolan broadcasted Live from the bottom of The Ambassador Lagoon at Atlantis The Palm. The broadcast went on for a total of five hours, 25 minutes and 25 seconds, breaking the Guinness World Records title for the longest underwater live radio broadcast in the world.
While some facts around the record itself are unsupported, Atlantis' approach towards radio in marketing is interesting. This effort too has already garnered substantial PR to the brand, especially given the Guinness World Records component for a Dubai radio host.
"I have been lucky enough to participate in some incredible stunts during my radio career, but this was truly an amazing challenge and attempting a Guinness World Records title is a total world away from my every day. The team at the Atlantis were incredible to work with and the support from my team at 104.8 Channel 4 made the whole challenge an incredible team effort," commented Mr Tolan in a press statement.
"By breaking the Guinness World Records title for longest Live underwater broadcast, we have captured exactly what 'A World Away From Your Everyday' at Atlantis is truly about. Experiencing the unforgettable and seemingly impossible and seeing something that can be found nowhere else in the world," added Ravini Perera, SVP, Sales, Marketing and PR, Atlantis, The Palm.